Empty Gate Zen Buddhist Center takes American approach to Korean Buddhism
By Tammy Quackenbush, Yonhap News, May 24, 2012
SAN FRANCISCO, CA (USA) -- With more than 80 Buddhist centers ringing California's San Francisco Bay, the area is hardly bereft of such belief. But two stand out among them, specializing in what has remained in Korea a less dominant sect: Korean Seon (Zen) Buddhism. One of the centers also stands out for its approach to teaching.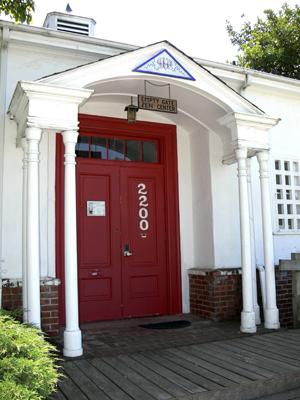 << Entrance to the Empty Gate Zen Buddhist Center (All photos courtesy of Tammy Quackenbush)
The Empty Gate Zen Buddhist Center is the larger of the two zen-based centers, located in the heart of the East Bay city of Berkeley near the University of California campus. The center has a loose affiliation with Korea's Jogye order, the country's largest Buddhist sect, but its membership is with the Kwan Um School of Zen, which was established by Seung Sahn, the first Zen master to live and teach in the West.
"The Kwan Um School and the Jogye order are separate," explained Jason Quinn, former resident abbot at the Empty Gate. "Master Seung Sahn came from the Jogye order, but we are independent from the Jogye order."
Empty Gate actively reaches out to non-Koreans desiring to learn Buddhism, both in the Berkeley center, through its Web site (www.emptygatezen.com), by e-mail, Internet, telephone and on social media such as Facebook (facebook.com/emptygatezen), Twitter (@emptygatezen) and YouTube.
These modern approaches to ancient practices came from Quinn's desire to reach those who were seeking authentic Buddhist practice and meditation, but were too far away from a Zen center to practice in person. The success of the online outreach is due, in part, to his experience with audio-visual technology.
"We're making more of an online presence," Quinn said. "I find the Internet fascinating. A lot of people complain about the Internet and how it sucks your energy, but I wanted to figure out how to use it."
The tenacity has paid off. Empty Gate's online following dwarfs in-person membership with more than 1,200 Facebook page likes and more than 650 Twitter profile followers.
Empty Gate streams live teachings Sundays at 7 a.m. One Wednesday a month at 8 p.m., the center streams a dharma talk by Empty Gate Zen Master Bon Seong. The dharma talks are geared toward novices.
"We also teach by correspondence via email," Quinn said. "Our guiding teacher also does some kong-an interviews via Skype for those who are living in isolated areas far away from a Zen center."
The building Empty Gate Zen currently occupies near the university was built in 1930 and lived several prior lives as a church, a dance studio and a belly-dancing studio before its 1997 reincarnation as Empty Gate Zen's non-residential meditation center.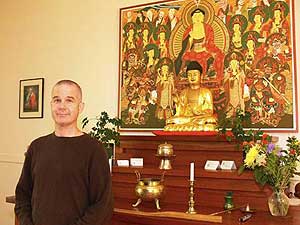 << Abbot Jason Quinn
The center has undergone a metamorphosis of its own. Master Seung Sahn founded it in 1977 as a residential center where Buddhist monastics could live in full-time ministry and meditation. By the time they moved to their current location in 1997, Empty Gate was no longer a residential Zen meditation center. Abbot Quinn is the center's only full-time resident. Most of the Kwan Um Zen centers in the U.S. are also non-residential.
An early resident of Empty Gate Zen was Robert Buswell, currently a distinguished professor of Buddhist Studies in the Department of Asian Languages at the University of California, Los Angeles. He was a resident monk there from 1979-81.
"It was a residential center at that time," he said. "It was the only Korean Zen Buddhist center in the area. I was a Jogye order monk at the time... There were many things that were familiar to me, but some also unfamiliar. The Korean chanting, which is actually Korean-transliterated Chinese, was very familiar, but some of the other practices were new to me."
One of the differences that any follower of Korean Zen Buddhism would quickly notice is the less restrictive dress code that allows lay Buddhist practitioners to wear the long grey robes associated with Buddhist clergy in Korea.
Visible on entering the main mediation room of Empty Gate Zen was a simple coat rack, from which hung student's long robes and name tags. These robes are optional, but once the students are robed, the uninitiated would find it difficult to differentiate monk from layperson.
Empty Gate is not alone in its mission to reach out to North Americans with its knowledge of Korean Zen Buddhism. It is one of more than 30 Korean Zen Buddhist centers affiliated with the Kwan Um School. Based in Providence, Rhode Island, the Kwan Um School was founded by Zen Master Seung Sahn in 1983, six years after he founded the Empty Gate Zen Center.
Master Seung Sahn discovered that Americans already had their own ideas about Buddhism, according to Buswell. Many of Master Seung Sahn's earliest students had some knowledge of Japanese Zen Buddhism. That experience colored their expectations of Buddhism, so he adapted his teaching style and developed what Buswell calls "an American-Korean-oriented school of Buddhism."
Quinn said the Kwan Um School method uses different techniques to point to the same ideas.
"The Buddha said that the different practices are different fingers pointing to the same moon..." Quinn said. "For example, Koreans use metal chopsticks, Indians use their fingers and Americans use a knife and fork. Which one is better? None of them. They all get food in to your stomach, but we get attached to the utensils."
Empty Gate Zen Center morning practice sessions all begin with the 108 prostrations of repentance. Some of the chants and sutras are recited in Korean or Korean-transliterated Chinese, but fluency is not required to study there.
Some of the practices and meditative disciplines at Empty Gate Zen have been adapted to the Western mindset, but not at the expense of the basic theology of Korean Zen Buddhism. The differences are more structural than theological, according to Buswell.
"The basic theology of the Kwan Um School and the Jogye order are the same," he said. "Some of the training in the Kwan Um School doesn't have an equivalent in Korea, such as their system of meditation, because it has been adapted to the Western learning style ... Even though the practice has been targeted to Western learning styles, it is still the gateway to Korean Buddhism in Korea."
Kwan Um emphasizes direction of practice, according to Quinn.
"You are not relying on anything outside of you, but returning to your original nature," he said. "There's not something outside of you to get. When you grasp for something outside of you, the natural result is suffering."
Again, it is all about different ways to point to the same thing, he emphasized.
"Zen never talks about reincarnation, but Tibetan Buddhism teaches on it a lot," Quinn said. "Whatever you do now has a natural result. If you want know your past, look at your current condition. If you want to know your future, look at your actions. But all of them respond to the same question: What is the cause of suffering, and what do you do about it?"