Buddhist temples push to get storm-relief money moving
By Anh Do, Los Angeles Times, January 17, 2013
The leaders of two O.C. temples ask for help in finding out why $27,000 collected by temple members to help East Coast victims is languishing in a bank.
Santa Ana, CA (USA) -- When the Venerable Thich Quang Thanh asked members of his Buddhist temple in Santa Ana to donate money to help victims of Superstorm Sandy in New York, he was encouraged when the charity dollars began to swell.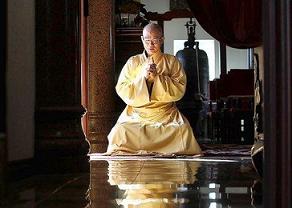 << Head monk Thich Quang Thanh is shown at the Bao Quang Temple in Santa Ana. (Christina House / For the Los Angeles Times / January 16, 2013)
But his spirit faltered when he found out that a chunk of the money - a pair of checks totaling $27,000 - made it only as far as neighboring Westminster, where the funds were deposited into a local bank account.
Thich Quang Thanh, who heads the influential Bao Quang Temple, said the checks were made out to the Mayor's Fund to Advance NY City and should have been delivered to New York Mayor Michael R. Bloomberg by now.
The abbot said he discovered that the checks had been deposited at a Wells Fargo branch in Westminster only after reviewing the temple's latest bank statement.
"We had requested it be sent as soon as possible. Many months have passed since the hurricane," he said.
"I cannot accept the situation," added the Venerable Thich Chon Thanh, of Lien Hoa temple in Garden Grove, who also collected funds.
He and Thich Quang Thanh wrote to Orange County Supervisor Janet Nguyen, who in turn sent a letter to the district attorney Wednesday, pushing for an investigation.
"It's really sad and unfortunate. They put their name and their credibility out there to raise money, and now this," Nguyen said.
"When people are generous, we need to follow up with them," the supervisor said. "We want to know three things: How the check was cashed, where the money is now and how will it be delivered."
Susan Kang Schroeder, spokeswoman for Orange County Dist. Atty. Tony Rackauckas, said that she is aware of the situation and that prosecutors will review the complaint and take "any appropriate action that's necessary."
The checks — one for $20,000, the other for $7,000 — were handled by the Vietnamese Interfaith Council, which was to make sure the money got to New York.
Thich Quang Thanh said a representative of the interfaith council told him that the money was safe and would be delivered after the Lunar New Year festivities in Little Saigon, the Vietnamese district that sprawls across central Orange County.
Among the festivities that highlight the Feb. 10 celebrations is the annual Tet parade, but this year organizers are working to raise money for the event, with more than $30,000 of the $60,000 needed already collected, according to Nghia X. Nguyen, vice chairman of the council.
The representative with whom Thich Quang Thanh said he spoke with is Nguyen, who heads the parade fundraising.
"What does the parade have to do with money for hurricane victims?" asked Thich Chon Thanh, the Garden Grove abbot.
During a news conference Wednesday night in Little Saigon, members of the Vietnamese Interfaith Council said it appears that no one endorsed the checks and that each contains the words "lack of endorsement" on the back.
Council members said it is their practice to quickly deposit checks such as the donations from the Buddhist temple and that a detailed ledger is kept of all donations.
"We cannot keep it at home," said Hoang Vu, who heads the interfaith council's finance committee. "We have to keep it in the bank."
Council members said they have raised nearly $160,000 from various sources for storm relief and have an appointment to deliver the money in New York on Feb. 22. The reason they're waiting that long, Nghia Nguyen said, is so they'll have "a chance to visit with storm victims who are suffering."
"Each donation carries sentiment, compassion," said Bishop Van Thanh Tran, council chairman. "We value that... We have not taken one dime."