Salt Lake Buddhist temples: one has Protestant look, one has Mormon roots
By Peggy Fletcher Stack, The Salt Lake Tribune, Apr 26 2013
One looks more Protestant but was Buddhist from birth — the other looks more Buddhist but has an LDS beginning.
Salt Lake City, Utah (USA) -- Two Buddhist temples dot Salt Lake City's urban core. Both are housed in historic structures, serve a diverse population and preach about the transitory nature of human life.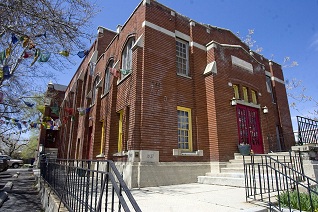 << (Kim Raff | The Salt Lake Tribune) The exterior of the Urgyen Samten Ling Buddhist temple in Salt Lake City on April 21, 2013. The building was once a Mormon ward and a gothic nightclub before it was renovated and became a Buddhist temple.
Salt Lake Buddhist temples: one has Protestant look, one has Mormon roots
One of these temples, though, is simple and understated, while the other is ornate and awash in traditional Asian colors. And the details of their sacred spaces reflect very different — even opposite — historical trajectories.
The Salt Lake Buddhist Temple, home to Utah's oldest and most continuous Buddhist congregation, is nestled into a crowded city block near the Calvin L. Rampton Salt Palace Convention Center. The building sits unobtrusively in an area now noted for parking lots and industrial spaces but was once a bustling neighborhood known as Japan Town.
This temple has the look and feel of a Protestant church, and that is no accident, says longtime member Brenda Koga. It was meant to blend in with the country's predominant Christian culture.
"Our particular temple doesn't resemble a Jodo Shinshu temple in other American cities or in Japan," she says. "It's more Americanized architecture."
Across town on 300 West and 700 South, the Urgyen Samten Ling Gonpa is in a century-old Mormon meetinghouse, which has been remade into a traditional Tibetan Buddhist place of worship.
The red, green, white, orange and blue prayer flags and wall hangings, along with the giant wooden shrine bedecked with rows of gold-encased Buddha statues and ablaze with candles, make it tough to imagine the space began as anything but a Buddhist temple. Then there are the yellow walls.
"You can't believe how many versions of mustard yellow there are," quips Jean LaSarre Gardner, a co-founder of the sangha or congregation. "We sent pictures and would call our teacher in Nepal about the color."
When the leader arrived to see the finished space, she says, "he was very pleased."
Old and new, converts and lifelong believers, past and present — all these Buddhists and their buildings add flavor and dimension to Utah's religious scene.
Coming to America
Japanese Buddhism arrived in the Mormon heartland more than 100 years ago with migrant workers who took jobs with Utah mines, farms and railroads.
By 1912, these Buddhists created their first congregation in Ogden, known as the Intermountain Buddhist Church. A few years later, the group moved to Salt Lake City, where members practiced Jodo Shinshu, a sect of Buddhism.
Through the years, more immigrants arrived — during World War II, for example, many Japanese Americans were sent to the Topaz internment camp in west-central Utah — bringing their faith and family shrines with them.
When the Salt Lake Buddhist Temple was built in the 1960s, these Buddhists "wanted to prove they were Americanized," Koga says. "They almost overdid it ­— but it's understandable."
The chapel — or hondo — features pews, pulpit and layout that are more like Protestant churches than their counterparts in Japan.
"The chapel area is supposed to be wider than long because the horizontal line is more soothing than a vertical line," she says. "Our particular chapel does not comply with that whole concept."
It does, however, feature three traditional Jodo Shinshu shrines, elements of design seen in all the sect's temples.