How a Beloved Los Feliz Church Became a Buddhist Meditation Center
By Stevie St. John, LA Weekly, May 29, 2014
Los Angeles, CA (USA) -- The church building at Franklin and Kenmore used to have a little white cross. Now, there are instead a golden wheel and two golden deer, which represent compassion and wisdom.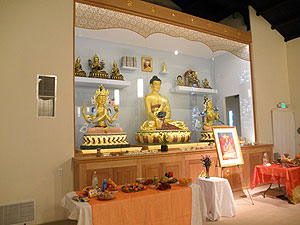 A traditional structure with a pitched roof and stained-glass windows, the building at 4953 Franklin Ave. spent more than seven decades as a Christian church. It has now gone Buddhist under the auspices of Kadampa Meditation Center, the start of a new chapter for a building with a history as rich as the city it calls home.
The wee building - only about 5,500 square feet - stands on land that once was part of a tract belonging to Arthur Letts, founder of the Broadway department store, according to local historian Donald A. Seligman, author of Los Feliz: An Illustrated History. After Letts died in 1923, Seligman says, the land was split into lots and sold.
In 1938, a Methodist congregation built a house of worship on the site, earning a write-up in the Los Angeles Times.
"The new $17,000 Mt. Olive Methodist Church, built on a $10,000 site at Franklin and Kenmore Aves., will be dedicated at 10:45 a.m. tomorrow with Bishop James C. Baker of the San Francisco area officiating and preaching the sermon. ... An elaborate musical program will be given," the Times reported on Oct. 15, 1938, alongside listings for various church services.
The congregation's roots stretched back to the 1890s, when Prospect Park Methodist Church was chartered. It later became East Hollywood Methodist, then Mount Olive Methodist and, in 1952, Los Feliz United Methodist Church.
In 1982, Rev. Holly Reinhart-Marean became the minister of Los Feliz United Methodist Church. It was her first solo assignment.
Parking, which would frustrate churchgoers for years to come, was already a challenge, she recalls. The building stands a few blocks from Los Feliz Village, a walkable area with shops and restaurants. The building's immediate neighborhood, though, is residential, with apartment buildings as well as single-family homes - and there's another church, the Armenian Evangelical Church of Hollywood, across the street. The Methodist church's pint-sized parking lot doesn't accommodate many vehicles; like the area's residents, visitors usually hunt for parking on the streets.
Reinhart-Marean remembers once finding a parking spot on the street and then, with diaper bag in tow, carrying her young daughter to the church. "It had the most gracious spirit about it," she recalls.
Reinhart-Marean's congregation was part of the United Methodist Church system. But it also rented space to a Korean congregation, which wasn't UMC but wanted to join the system. The two congregations agreed to merge, and in the mid-1980s (probably 1985, Reinhart-Marean says), became a single congregation with both English-speaking and Korean-speaking ministries.
It was "a great partnership" between the two language ministries, says Rev. David Farley, who assumed leadership of the church's English-speaking ministry in the mid-'90s. The minister of Echo Park United Methodist Church since 1982, he split his time between the two churches for a while.
"It was designed to be a nice little village church," Farley recalls - almost like a "church in miniature."
During his time at the little church, Farley saw the Korean-speaking ministry flourish, buoyed by increased immigration from Korea (which has a sizable Christian population). During the 1980s, the Asian-American population in the United States grew an astonishing 70 percent thanks to immigration.
Meanwhile, the English-speaking ministry remained small, Farley says. The United Methodist district overseeing the church saw possibilities for the thriving Korean-speaking ministry as its own church. And so, about a century after Prospect Park Methodist formed, the English-speaking ministry of Los Feliz United Methodist Church dissolved. Worshippers from that ministry would sometimes visit their former congregation, but they scattered to Farley's Echo Park church and other area Methodist churches to find new religious homes.
Los Feliz United Methodist Church continued, focused solely on its Korean-speaking ministry. The growing congregation eventually moved to a larger building on Western Avenue, where it remains today.
In 2008, the little church building became the home of Founders Metropolitan Community Church, which is part of the SoCal-grown MCC denomination. MCC was founded by LGBT community activist Rev. Troy Perry, a gay man excommunicated from his former Pentecostal church because of his sexual orientation.
Some 300 LGBT-focused congregations are in the denomination worldwide now; the L.A. congregation was the first (hence its "Founders MCC" moniker). It called various L.A.-area locations home before moving to the building on Franklin.
Though the building had its charms - Founders' senior pastor, the Rev. Dr. Neil Thomas, said he "certainly felt the energy" of the decades of prayer that had taken place there - its expanding congregation also soon felt squeezed. MCC added capacity by installing a balcony and reorienting the sanctuary space, but it wasn't enough. In 2013, the congregation moved to a much larger building on Prospect Avenue.
This time, bigger changes were under way for the tiny church building. For the first time, a non-Christian denomination would be moving in.
As Thomas explains it, a Buddhist organization based in the United Kingdom approached MCC. The congregation liked the idea: "We were pleased that this would continue in religious use and that the organization held similar values to ours around the integration of sexuality and spirituality."
The British organization, Kadampa, has a worldwide presence. Its Kadampa Meditation Center California, located on Blake Avenue near Dodger Stadium, is a regional hub, and classes are offered in both that building and other L.A. locations.
Gen Kelsang Rigpa, a Buddhist monk and teacher, says the Kadampa crew had been on a "mad search" for a viable space.
At first, they sought a commercial storefront. But when the Franklin church building surfaced in an online search, its neighborhood seemed walkable, friendly and diverse. That fit with the vision for Kadampa Meditation Center Hollywood: a model comparable to a yoga studio, with an array of classes that people might attend as part of a neighborhood outing.
Since buying the building in March 2013, Kadampa has done a lot of work on it. Fresh paint, deer statuary and landscaping aside, the exterior looks largely the same. Inside, though, there have been marked changes. The addition of a counter expanded the size of the kitchenette. Nearby are shelves full of books on Buddhism.
In the sanctuary, the red carpet and church pews are gone. Now a huge altar occupies most of one wall; its sky-blue background, along with the new, sand-colored carpet, give the room a beachy palette. The stained-glass windows remain but new plaques with Buddhist symbols, such as a lotus, have been affixed to them.
On a Tuesday evening in April, the meditation center opened its doors to the public for the first time. Some 50 or so people left their shoes in the foyer, then took seats in the sanctuary for a celebration of Buddha's Enlightenment Day. The following day marked the beginning of classes at the center - and a new era.