Zen Buddhist priest urges Stanford graduates to cultivate spiritual practices
By Kathleen J. Sullivan, Stanford Report, June 14, 2014
Stanford, CA (USA) -- Baccalaureate speaker Zoketsu Norman Fischer told graduates that their promising lives would be filled with challenges, but love and a regular spiritual practice that has no agenda would bolster them for the journey ahead.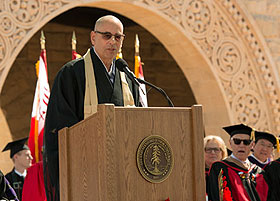 << Zoketsu Norman Fischer, founder of the Everyday Zen Foundation, addressing the Class of 2014 at Baccalaureate in the Main Quad on Saturday. (Photo: L.A. Cicero)
Baccalaureate, a multifaith celebration during Commencement weekend, featured spiritual songs and readings from a variety of traditions.
Addressing the Class of 2014, Zoketsu Norman Fischer, a Zen Buddhist priest and poet, urged Stanford graduates to cultivate regular spiritual practices to survive the difficult human journey of life with their "hearts intact" and their "love generous and bright."
Fischer, who spoke Saturday morning in the Main Quad at Baccalaureate, a multifaith celebration for graduating students and their families and friends, titled his address, "How to Survive Your Promising Life."
Fischer, the founder of the Everyday Zen Foundation, said the defining characteristic of a spiritual practice is that it must be "useless, absolutely useless."
"You've been doing lots of good things for lots of good reasons for a long time now," he said, "for your physical health, your psychological health, your emotional health, for your family life, for your future success, for your economic life, for your community, for your world. But a spiritual practice is useless. It doesn't address any of those concerns. It's a practice that we do to touch our lives beyond all concerns – to reach beyond our lives to their source."
Fischer, a former abbot of the San Francisco Zen Center, the oldest and largest Buddhist institution in the West, said his practice for many years has been simply to sit in silence.
He said spiritual practices come from love, encourage love and produce more love. They require imagination and are unlimited in their variety.
"Whether or not you believe in God, you could pray," he said. "You can contemplate spiritual texts or art, poetry, sacred music. You could just walk quietly on the Earth as a spiritual practice. You could gaze at the landscape or the sea or the sky. A little tip: If you're ever in trouble, look up at the sky for a few minutes and you'll feel better."
Among the other spiritual practices Fischer offered was compassion – going toward, rather than turning away from, the suffering of others and your own suffering.
"Can you become softened and brought to wisdom by the unavoidable pain of yourself or others?" he asked.
Or you could practice gratitude, he said. He recommended that the first thing graduates do each morning is "train yourself to close your eyes, just be quiet for a moment, and say softly to yourself the word 'grateful,' and see what comes into your mind."
Fisher urged the graduates to think seriously about creating spiritual practices, but not without a certain amount of joy and lightness.
"Today you are hurtling out of heaven," he said. "Where in the world will you land? When you get there, what in the world are you going to do? What is really worthwhile and what is just a distraction – no matter how much people tell you it's not? This is not a simple thing. You're going to have to figure these things out. Nobody but you can do that."
The Baccalaureate celebration opened with a solemn Buddhist call to prayer performed on a singing bowl and ended with a dramatic drumming blessing, Tatsumaki (Whirlwind), performed by Stanford Taiko.
In between there was an invocation, "A Prayer of the Ojibway Nation"; a benediction; and two readings: "I Have Learned So Much," by Hafiz of Shiraz, and a Zen-inspired translation of Psalm 124 by Fischer.
Stanford Talisman, a student a cappella group, performed two songs, "Wanting Memories," a song of the African diaspora, and "One by One," a Xhosa song that was inspired by the South African anti-apartheid movement.