Hundreds mourn loss of Buddhist leader in Fresno County
Action News, May 3, 2015
FRESNO COUNTY, Calif. (USA) -- Hundreds of people are paying their respects to the former leader of the Central Valley's largest Buddhist community. Dr. Vandi Vongsakhen died Jan. 21 after a lengthy illness. The final ceremony concludes on Sunday after more than 100 days of mourning.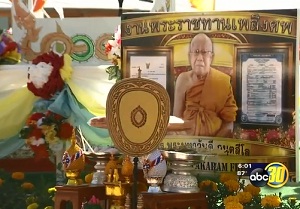 Monks from as far away as Laos, Cambodia and Thailand stand together as they mourn the loss of a revered Buddhist leader. Dr. Vandi Vongsakhen served as an abbot, or head of the monks, at a Buddhist temple in Fresno County.
"The reason that all these Buddhist monks came from all over the world was because of the significance of this person who died because he has touched so many lives," temple secretary Mike Sayaseng said.
Community members say Dr. Vandi served as a monk for 60 years, and during that time established this temple -- Wat Brahmacariyakaram. During his years of service as head of the temple, he led hundreds of Fresnans in their Buddhist practices.
"We are very grateful. He has done so much for our community in our lives. When he passed away, we gather together here to honor his life," said Sayaseng.
Volunteers worked for months creating a crematorium castle for his body to be displayed, while others donated time and money to make food for the final day of mourning. A local funeral home even donated all of their funeral services to the religious leader, after working with Dr. Vandi for many years.
"It's important that we recognize all the different cultures and traditions that are associated within the Buddhist community," said Michael Rabara, general manager of the Chapel of the Light. "This particular temple serves a lot of the Laotian culture, a lot of the Thai culture; we also serve the Cambodian temples as well. But Dr. Vandi was a great friend to all of the communities, and he brought together all the different Buddhist communities."
Once Dr. Vandi is cremated, his ashes will be brought back to the Buddhist temple.
Right now, it's unclear who will take Dr. Vandi's place as head of the monks. Action News is told there is an election process to decide who will be the next abbot.