Meditations (Spirituality): The Retreat Industry
by Martin LeFevre, Scoop, May 26, 2005
Mt. Shasta, Calif. (USA) -- A veritable retreat and spiritual guidance industry has sprung up in the last decade in the West. Apart from the ethical questions of turning spirituality into business (a practice as old as both), there is the question: To what degree are all these retreats and religious teachers actually helping people and transforming society?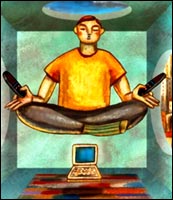 Out of curiosity, as well as an urge to find like-minded people to question and awaken insight together, I?ve gone to a variety of day or weekend-long retreats over the last ten years. The only thing I?ve come away with is: 1. There is a lot of spiritual hunger out there; and 2. There are a lot of people willing to exploit it. (Not all people of course, but where there's a ?market,? there are manipulators.)
A possible exception that proves the rule is the Shasta Abbey Buddhist Monastery, located a few hours north of where I live, near the majestic volcanic peak of Mt. Shasta. Though I haven?t visited the Abbey, I did attend a special daylong retreat held in town with the abbot and a number of the monks.
They brought a trace of the abbey with them. With their simple brown robes and austere manner, and no doubt because of the innumerable hours spent in ?Serene Reflection Meditation? (Soto Zen), the monks? presence alone created an atmosphere of respect and quiet. (That raises another interesting question: What is the relationship between a monastery and the world?)
As I recall, we sat for about 45 minutes at a time, took shorter ?walking meditations,? and had two dialogues, which were really question and answer sessions, with the abbot. Naively perhaps, I asked: ?How did nature evolve a mind that is so at odds with what you call our ?Buddha nature?? Though I?ve gone into the question, my intent was to spark mutual inquiry. The abbot replied, ?If you have insight into that question, you should be on this podium.? It would be great if no one needed to be, I thought.
Spiritual authority is a subtly destructive thing, and sophisticated spiritual teachers often go to great lengths to disavow it. The essential thing is not to rely on anyone inwardly. Of course, if one discovers something, one naturally wants to share the insight. But water flows wherever it goes.
I heard about a retreat center recently where people paid a lot of money to come for a week of silent sitting, talks by the teacher, and quiet dialogues. A terrific storm had blown through the week before, knocking down many trees. To clear away the debris, chain saws were employed incessantly in the vicinity, much to the chagrin of the retreatants. (My spell check wants to make that ?retreat ants.?)
Upholding the principle of passivity to the point of absurdity, the staff did nothing, and the teacher found the situation funny, which it was if you weren?t part of it. Finally a few of the guests insisted that the staff make the chain saw crews cease and desist for at least a few hours during the day, thereby temporarily restoring treasured tranquility.
The story illustrates a major flaw in the spiritual movement?that of removing oneself from the world, taking the attitude that nothing matters but one?s individual ?here and now.? Believing that only our individual responses matter is the great peril of the contemplative life.
One often hears from retreatants some variation of the mantra: ?I cannot do anything about the world?s woes; all I can do is watch my own reactions.? That risks viewing the economic and political injustices of this world as mere intrusions upon the placid settings of one?s personal and permanent retreat.
--------------
Martin LeFevre is a contemplative, and non-academic religious and political philosopher. He has been publishing in North America, Latin America, Africa, and Europe (and now New Zealand) for 20 years. Email: martinlefevre@sbcglobal.net. The author welcomes comments.