Community House helps Buddhist group
by Andy Fitzpatrick, Battle Creek Enquirer, September 20, 2015
Battle Creek, Michigan (USA) -- Near the bustle of downtown Battle Creek, a center of calm could be found Saturday thanks to a local group's use of a community resource.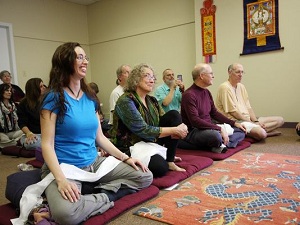 A Neighborhoods Inc. Community House at 104 Calhoun St. was being used by the Palchen Study Group over the weekend; the group is a collection of people studying Buddhist meditation and other practices.
Matt Willis, a member of the group, said they've been active since 2011 and usually meet at a local holistic health center. However, the Lama Tashi Topgyal was coming for another visit from his home in Red Hook, New York, and the group wanted to accommodate him in the Community House.
"It's such a wonderful resource in the community so we're really glad that we were able to have this program here," group member Matt Willis said Saturday.
On its website at www.nibc.org, Neighborhoods Inc. lists five such Community Houses in town.
"The community houses provide comfortable settings for a variety of activities ranging from wedding receptions for the folks down the street, summer lunch programs for kids, informative meetings or neighborhood gatherings," the website reads.
Willis said his group did some cleaning up — washed the walls and replaced the ceiling tiles — although he said they found the house in pretty good shape when they got there.
Saturday, it was transformed into a Buddhist space; floor pillows were placed for those meditating and a shrine could be found at the head of the main room, with candles and other items marking the space.
Willis said the group was doing a few things over the weekend; in addition to meditation techniques being taught, there were those who were undergoing a Refuge ceremony, which was described as a gateway to Buddhism.
Topgyal, speaking through translator Lama Yeshe Gyamtso, said he's often come to Battle Creek and enjoys it more each time. He said there are two reasons people here are driven to seek meditation.
"One is that some people seek to do what the Buddha did," Topgyal said through Gyamtso. "The other is that many people have learned that meditation is very helpful in dealing with stress and related illnesses, and with anxiety."
Those wishing to escape that stress seemed to be able to at the community house; as the Refuge ceremony began, the atmosphere was calm and relaxed. Of course, the 21st century was still felt when Gyamtso said he forgot to bring some cards with him to give to participants when Topgyal gives them names related to Buddhism.
"When he names you, I'll ask you to input your email address," Gyamtso said to laughter while holding a tablet computer. "It's a little modern, but it works."
Laura Adams, who manages the facility for Neighborhoods Inc., said she's checked out the Palchen Study Group a few times herself and showed the building to Willis when the group was looking for a space.
"I am thrilled," Adams said.
Contact Andy Fitzpatrick at 269-966-0697 or afitzpatrick@battlecreekenquirer.com. Follow him on Twitter: @am_fitzpatrick.
For more information on the Palchen Study Group, go to www.palchenbattlecreek.org. For more on Neighborhoods Inc. programs, go to www.nibc.org.