Buddhists propose new temple in Hillsboro
By Melissa Binder, The Oregonian, February 25, 2016
Hillsboro, OR (USA) -- Sri Lankan Buddhists in Washington County have gathered at a small house in downtown Hillsboro for more than a decade, but now they're taking steps to build a larger, more traditional temple.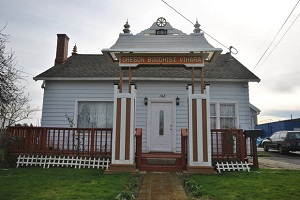 << The Oregon Buddhist Vihara, located at 148 S.E. Walnut St. in Hillsboro, has been a spiritual home for Sri Lankan Buddhists for more than a decade. According to the plan for a new temple, this home and accessory buildings on the property would be torn down. (Samantha Swindler/The Oregonian)
The head monk at the Oregon Buddhist Vihara, located at 148 S.E. Walnut St., applied to the city of Hillsboro for approval of a plan to build a two-story temple on the property, according to a public notice.
A hearing is set for 6:30 p.m. March 16 at the Hillsboro Civic Center, located at 150 East Main Street.
The temple's resident monks could not be reached for comment.
Drawings attached to the public notice show a temple with two main buildings attached by a glass walkway.
The northern building, which would face Southeast Walnut Street, would contain a meditation hall for services, according to the notice. The southern building would house the two resident monks, Sunday school space and a library.
"The beautiful entrance, the unique roof similar to that of the dalada maligawa, and the tranquil courtyard all ivoke tranquil memories we have of Sri Lankan temples that we grew up with or have visited," the temple's website says in a page detailing the new project.
Sri Lankan buddhists celebrated the opening of the Oregon Buddhist Vihara in June 2005. It was founded by the Venerable Pallebage Chandasiri, who served at a temple in Los Angeles for 10 years before moving to Oregon.
Theravada Buddhism is dominant in Sri Lanka, where roughly 70 percent follow Buddhism. Theravada is one of two major forms of the religion and is prominent in Southeast Asian countries such as Thailand, Myanmar and Laos. Buddhists from Japan, China and Korea typically follow the other form, called Mahayana.