Buddhist temple reopens
By Samantha Gonzaga, Press Telegram Staff writer, July 24, 2005
Gotama Temple holds weekend celebration.
Long Beach, CA (USA) -- About 70 Buddhist monks and nuns sent up prayers Saturday at the reopening of the newly expanded Gotama Temple in Long Beach's Craftsman Historic District.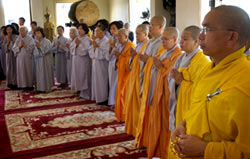 << Steven Georges/Press-Telegram
Buddhist monks from the Gotama Temple on 905 Orange Ave. in Long Beach pray during morning religious services in their new two-story meditation hall. The temple is celebrating its grand opening and 10th memorial anniversary of its founder, the late Ven. Dr. Thich Thien Thanh.
"The statues mean nothing, but we have the ceremony to make the statues alive with Buddha's spirit," temple volunteer Denise Truong said of the half-dozen life-size Buddha and bodhisattvas inside and outside the temple.
Located at 905 Orange Ave., Gotama Temple received its first wave of visitors Saturday.
After the welcoming prayers, neighbors stopped to worship inside the hall, stepping barefoot on one of the 18 fuschia carpets laid out before two large statues of Buddha made in Thailand and Vietnam.
Standing on either side of the Buddhas are bodhisattvas beings striving for full enlightenment representing compassion and wisdom.
"We are here to serve our neighbors," said Thich Khong The, one of three resident monks. "I hope people will know they have a place to worship, no matter their background."
Buddhism is based on the teachings of Siddhartha Gautama, who urged followers to perform good deeds and rise above material desires in order to purify the mind. Among the major precepts driving it are prohibitions against killing, thievery, adultery, lies and intoxication.
Truong said the temple is open to the community.
"We want to introduce to Americans that Buddhism is a religion of peace," she said. The celebration continues today. The public can take part in a celebration commemorating the new, two-story meditation hall the temple's late founder, Dr. Thich Thien Thanh.
Festivities begin at 10:30 a.m. and include vegetarian lunch and traditional Vietnamese dance performances, as well as a demonstration of African martial arts and music.