Tibetan nuns thrive in exile
By ATHIMA CHANSANCHAI, SEATTLE POST-INTELLIGENCER REPORTER, Aug 28, 2005
Project supports 600 Buddhists
Seattle, WA (USA) -- Mention nuns and all kinds of images might come to mind, stern or sublime, depending on your experience.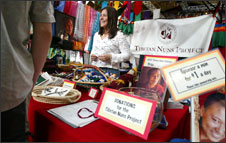 << Debra Goldman, development officer for the Seattle-based Tibetan Nuns Project, sells handmade goods Sunday at the Tibet Festival at the Seattle Center. The project supports 600 Buddhist nuns in exile.
The photographs of women on the walls of the Tibetan Nuns Project -- which came home to Seattle this spring -- are of young novices and wizened veterans with shaved heads erupting in laughter in their red-and-saffron robes. A video of their life in exile shows similarly animated nuns doing farming and debating Buddhist philosophy.
They are the faces of women who have escaped persecution, imprisonment and sometimes rape to practice Buddhism and learn to read and write.
In a small office in Pioneer Square, the Tibetan Nuns Project helps coordinate aid for the nuns and receives handmade items from women striving to be self-sufficient.
In Seattle, where the project started in the early '90s, TNP has found a welcoming environment -- even more so than in Berkeley, Calif., its home for more than a decade.
"This project attracts people from all spiritual backgrounds who are interested in women's education, international refugees and human rights," said Debra Goldman, the group's development officer and its only full-time staff member in the United States.
She said the appeal of Tibetan Buddhism lies in its altruistic motivation. "Nobody will reach nirvana until everybody reaches it."
Goldman and Jessica Ravetz, who shares office space with TNP as a staff member with the Tibetan Healing Fund, also collaborate in operating the Vidya Gallery adjacent to the office. In October, it will feature art by Burmese refugees.
Seattle was one of the first resettlement sites for Tibetans given asylum in the United States. About 250 Tibetans now live in the state.
TNP's work began in 1991, when 66 Tibetan nuns suddenly appeared in Dharamsala, India. The women had trekked from eastern Tibet through the Himalayas for more than two years.
Their needs gave birth to the Tibetan Nuns Project, a non-profit organization started in Seattle to support Tibetan nuns in exile -- now numbering about 600. Through pooled sponsorships (the average cost to clothe, feed and educate one of the women per month is $30), the group established four nunneries in India, two of them built from scratch. Machines and men did most of the heavy work, but the nuns did what they could, hoisting cement blocks on their backs.
Ultimately, the nuns want to return to Tibet as instructors. At the nunneries, they learn about their heritage as well as basic social studies, English and other skills to help them function in the modern world.
In Tibet, the nuns were encouraged to serve by memorizing prayers and helping monks.
The nuns also send boxes to Seattle filled with blessed prayer beads, journals made of recycled paper with handmade covers, and dolls made from extra material from their robes to support the effort in India.
The project's director in India is Rinchen Khando Choegyal, the former minister of education of Tibet's government in exile and the Dalai Lama's sister-in-law.
In 1950, China asserted its sovereignty over Tibet by invading it. In 1959, the Dalai Lama and others in his family -- as well as high-ranking government officials -- fled Tibet. About 100,000 Tibetans went into exile, most of them settling in Dharamsala, a city in northern India designated as the exiled government's base.
TO LEARN MORE
For more information on:
# The Tibetan Nuns Project: www.tnp.org
# Education and health care initiatives that focus on rural Tibetans: www.tibetanhealingfund.org
# The Sakya Monastery of Tibetan Buddhism: www.sakya.org
# The Tibetan government in exile: www.Tibet.com