Buddhist group opens second clinic in LA
By Shirley Hsu, Pasadena Star News, Aug 31, 2005
South El Monte, CA (USA) -- A new clinic opening Thursday will offer doctor's visits at low cost for families who can't afford health insurance.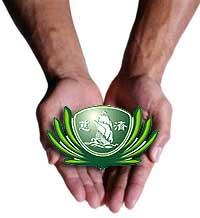 The Buddhist Tzu Chi Foundation will open the doors to its second community clinic in the Los Angeles area.
Run by three staff physicians and additional volunteer doctors and nurses, the new clinic will offer internal medicine, general practice, obstetrics and gynecology, pediatrics and minor surgeries as well as acupuncture and acupressure therapy, said Dr. Ming Chang Hsu, clinic director. The foundation also hopes to offer mental health services in the future.
Patients will pay about $20 per visit, Hsu said. "One of the goals of (the Buddhist organization) is to alleviate suffering,' said Austin Tsao, the Tzu Chi Foundation's CEO. The international volunteer- based charity opened its first clinic in Alhambra 12 years ago. That clinic is completely free and draws thousands of patients a month, said Dr. William Keh, a pathologist and the clinic's chief executive officer. The Alhambra clinic also has dentists, which the South El Monte clinic does not have.
Keh, who went to Sri Lanka in January to help treat victims of the South Asian tsunami, said the new clinic is a response to the growing number of people living without health insurance.
The 2,400-square-foot clinic, remodeled from private doctors' offices, sits across the street from the Greater El Monte Community Hospital. The clinic and the hospital will complement one another, Hsu said: The clinic can refer patients who need surgery or lab tests to the hospital, and the hospital will be able to send patients who don't need emergency care to the clinic.
Tzu Chi is now raising funds for its next project, building a senior health center in Wilmington for the growing senior population there.