In search of infinite compassion
By Karen Bossick, For The Times-News, Sept 2, 2005
KETCHUM, Idaho (USA) -- Martin Mosko is creating in a few weeks what typically takes him months. With the help of backhoe and caterpillar operators, he is transforming a portion of the Sawtooth Botanical Garden into a contemplative garden worthy of the Dalai Lama himself.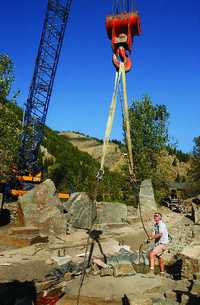 << ASHLEY SMITH/The Times-News
Michael Olenick of Big Wood Landscape of Sun Valley oversees the lifting of an 18-ton rock on Tuesday morning at the Sawtooth Botanical Garden in Ketchum. The company is helping to place the boulders in the Garden of Infinite Compassion before the arrival of the Dalai Lama later this month.
Called the Garden of Infinite Compassion, it will be the home of an 1,100-pound Tibetan prayer wheel that the Dalai Lama will bless Sept. 12 in a private ceremony, following a Sept. 11 address to 10,000 people at the Wood River High School football field.
"This will be simply unique for His Holiness the Dalai Lama," said Mosko, a Buddhist monk who trained extensively with Japanese master gardeners to learn the craft of creating contemplative gardens. "And I am so pleased to be part of it. It's about doing something positive in the world."
Dressed in the gray work clothes of a sensei, Mosko calmly stood in the pit smoking a pipe as he worked amid the rumble and roar of construction.
Occasionally, he circled his hand in the air to show crane operator Darin West and Big Wood Landscape workers Michael Olenick, Gil Salinas and Aureliano Lopez where to plant 16 rocks, some weighing 30 tons.
The rocks represent the 16 Arhats - 16 disciples of Buddha who have attained freedom from the cycle of suffering and rebirth.
Mosko is coupling water from a 3,000-gallon well with water from a creek that runs through the property to create enough water to turn the wheel. The wheel measures 3 feet in diameter and stands 5 feet tall and is stuffed with more than a million prayers written by monks in India. Every time it turns, it's said to send a million prayers out on behalf of humanity.
"Om mani padme hum," Mosko said, vocalizing the prayers written on those papers.
"Buddhists repeat certain syllables to bring about desired effects," he said. "This is a mantra of compassion to bring about healing. We believe if you say this prayer over and over, it makes that prayer happen."
That said, you need not be a Buddhist to enjoy the garden, he said.
"This garden is intended as a place for all beings to seek beauty and find healing."
Mosko, who brought his parakeet Quincy with him to oversee the project, has designed a garden for a prayer wheel before, but not for such a monumental wheel. He's excited to do this one for the Dalai Lama.
"I think he's the only viable leader in the planet today," he said. "He's simple and sincere. And he sets an incredible example."
----------------
To help build the Garden of Infinite Compassion, send donations to the Sawtooth Botanical Garden at Box 928, Sun Valley, ID 83353. Or, call (208) 726-9358.