Temple must pay unwitting backer
By Scott Wong, Inside Bay Area, Sept 5, 2005
In lawsuit, man claims ex-wife secretly donated $330,000 before divorce
San Mateo, CA (USA) -- The Purple Lotus Temple, which has plans to build an enormous Buddhist facility near Fremont's Quarry Lakes park, has lost a San Mateo County court battle that has been closely watched by the local Chinese media.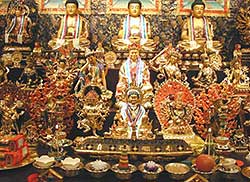 << The Purple Lotus temple in San Bruno, California
The San Bruno-based religious group was ordered by a jury this week to pay about $87,000, plus interest, to a prominent Taiwanese professor who says his ex-wife secretly donated hundreds of thousands of their dollars to the organization before their divorce.
Thomas Ho Nien Au, 69, who also has lived in San Francisco and Hillsborough, filed a lawsuit earlier this year asking that the Buddhist organization give back about half of the $330,000 his ex-wife contributed since 1992, plus damages.
But the jury decided Au — an artist, poet and professor at the Chinese Culture University in Taipei — waited too long to sue for the rest of his funds and could not reclaim about $100,000. Still, Au's attorney, Benjamin Ballard of Tiburon, said he was pleased by the jury's verdict.
"The jury found (the temple) should give money back, and that was the right decision," Ballard said. "The case was well-prepared and well-tried by both sides."
The Rev. Alfred Wang, who manages the San Bruno temple, said the group plans to appeal the jury's decision. But he called the trial a good lesson that will cause nonprofit organizations to re-evaluate policies for collecting donations.
"It's been a great learning experience for all of us," Wang said. "We have openly accepted all donations out of everyone's good will, but now, we will have to check to make sure everyone's spouses agreed to those donations."
The Sing Tao Daily, World Journal and KTSF-TV (Channel 26) were among many Chinese-language newspapers, television stations and Web sites following the four-day trial since it began at the San Mateo County Superior Court on Monday.
Formerly known as the Purple Lotus Society of the USA, the organization is a local chapter of the True Buddha School, which has about 4 million followers, most of whom are of Chinese descent.
It is trying to raise money to help fund the construction of a 55,000-square-foot temple and 35,000-square-foot school in Fremont on 5.5 acres between Quarry Lakes Regional Recreation Area and the Union City city limit.
The $20 million project was expected to come before the Fremont Planning Commission last month, but the review was postponed to allow time for temple leaders to meet with Union City officials.
For information about the Purple Lotus Temple, visit http://www.purplelotus.org.