Dalai Lama tells business leaders to have a heart
By JOHN MILLER, Associated Press, September 13, 2005
KETCHUM, Idaho (USA) -- The symbolism of the Dalai Lama's Idaho trip was on display as the spiritual guide for 20 million Tibetan Buddhists, perched on a stage 5,800 feet up in the Sawtooth Range, gave advice to 350 American business and political leaders who traveled here looking for answers.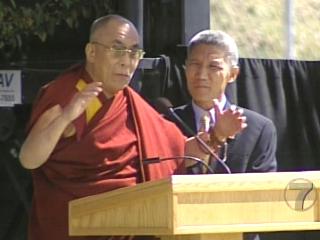 In a distinctly Sun Valley twist, the pilgrimage vehicle of choice for some was private jet.
Monday's event was meant to encourage the powerful to incorporate compassion into their business and public lives. Coming after fraud convictions of U.S. executives including Worldcom Inc.'s Bernie Ebbers and Scott Sullivan and cable-TV magnate John Rigas, the Dalai Lama's address underscored the importance of respecting employees, shareholders and customers, said Kiril Sokoloff, a financial industry consultant and Buddhist who spent $1 million to bring the exiled Tibetan leader to the Idaho resort area.
"We human beings have the seed of human compassion," said the Dalai Lama, sitting next to a translator inside an event tent on Sokoloff's Ketchum estate, where trees along the main road toward Galena Summit hide a house with ponds, fountains and the jagged Sawtooth peaks beyond.
A day earlier, the 70-year-old monk had addressed 10,000 people on a high school football field _ and millions of others via a live CNN broadcast _ to mark the fourth anniversary of the Sept. 11 terrorist attacks and to extend sympathy for victims of Hurricane Katrina.
Sun Valley is accustomed to hosting the business elite: In early July, an annual retreat for media honchos included incoming Walt Disney Co. Chief Executive Officer Bob Iger, Time Warner Inc. CEO Dick Parsons and Viacom Inc. Co-President Les Moonves, as well as Microsoft Corp. Chairman Bill Gates.
At Monday's event, guests included business people and fund managers who oversee a combined $3.5 trillion in capital, according to organizers of the event. Other attendees included Idaho Gov. Dirk Kempthorne; U.S. Rep. Jim McDermott, D-Wash.; Alan Blinken, former U.S. ambassador to Belgium under President Clinton; and the motivational speaker Tony Robbins.
"It's not mutually exclusive, being compassionate and running a successful business," Thomas McKissick, a Los Angeles fund manager who oversees $5.5 billion in one of the TCW Galileo funds, said in an earlier interview. "It has to do with corporate responsibility."
During his first visit to Idaho, the Dalai Lama told reporters Sunday that the value of the U.S. invasion of Iraq remains something for history to decide.
He reiterated concerns about his native Tibet, which he fled in 1959 following a failed uprising, as the Chinese government pursues a program of economic expansion in the Himalayan region that human rights groups believe is pushing native Tibetans to the margins.
Later Monday, the Dalai Lama was to speak to thousands of Idaho school children in Hailey. After leaving Idaho on Wednesday, his extended U.S. visit includes stops in Arizona, Texas, New York, New Jersey and California before concluding in Washington, D.C., on Nov. 13.