Dalai Lama reaches out to family hit by tragedy
By John Miller, Associated Press, Sept 20, 2005
HAILEY, Idaho (USA) -- Willow Jack, a dancer from Idaho's Lemhi Shoshone Indian tribe, lost her husband and 4-year-old daughter in an Aug. 12 car crash on a southern Montana highway.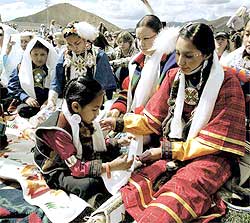 << AP Photo/Ted S. Warren -- Willow Jack (right) looked at photographs with her son Nakeezaka, 6 (lower left), as they waited Sept. 12 for an address by the Dalai Lama dedicated to the children of Idaho at Wood River High School stadium in Hailey, Idaho. Both were among a group of Lemhi-Shoshone who were blessed by the Dalai Lama. Willow's husband and Nakeezaka's father, Daryl, along with their daughter Maliah, 4, were killed in a car accident in August.
One month later, the Fort Hall woman was in a resort town south of Sun Valley, where she met the Dalai Lama at a ceremony attended by some 5,000 Idaho children and their families.
Though they practice different faiths, Jack, 24, said meeting the 70-year-old holy man to 20 million Tibetan Buddhists and having him bless her surviving son, Nakeezaka Jack, 6, helped ease her sadness. She was injured in the crash and doctors have said her crushed pelvis will keep her from walking - and dancing - for at least another year.
''I think we ended up in the right place,'' Jack said from her wheelchair. ''He [the Dalai Lama] put his arms around me and hugged me and said, 'Everything is going to be OK from now on.'''
The afternoon event at the Wood River High School football field was a ceremony that crossed the boundaries of religion, emphasizing the human qualities that earned the Dalai Lama the 1989 Nobel Peace Prize for urging a nonviolent resolution to the Chinese occupation of Tibet.
He was invited to Idaho by financial adviser and Buddhist Kiril Sokoloff, who spent $1 million to organize the event, including an address to U.S. business and finance leaders at Sokoloff's Ketchum home and the Sept. 11 speech to 10,000 people to commemorate the fourth anniversary of the Sept. 11 terrorist attacks.
On Sept. 12, the Dalai Lama arrived in a light rain, walking slowly beneath a white-and-blue umbrella near a row of children holding colorful banners. Once on stage, he honored 18 Idaho children who'd won essay contests about compassion.
''The 20th century has been a century of bloodshed,'' the Dalai Lama told the kids. ''The present century, because of our past experience, should be a century of peace. The new shapers of the planet are you, the young children.''
After it was over and the Dalai Lama had been whisked off to his next private meeting, 12 members of Willow Jack's extended family helped transfer her from her wheelchair to a waiting white minivan for the drive back to Fort Hall.
''Holy men, regardless of where they come from, are respected by Indians because we share the same spiritual depth,'' Jack said.
She said she learned something about caring following the death of her husband and daughter, and before she learned she'd walk again, when residents of Butte, Mont., donated food and visited her in the hospital to help keep her spirits up.
''If there's anything in the world this has taught me, it's that the most powerful thing in the world is compassion,'' she said.