Peace activists arrested for Iraq War protest
The Buddhist Channel, Nov 17, 2005
Trial of Cindy Sheehan and 371 Iraq War Resisters, including Buddhist Peace Activists, Arrested in Unprecedented Civil Disobedience at the White House
Washington, DC. (USA) -- Anti-war activists from around the country are traveling to DC this week to take part in a historic trial, which will begin on November 16, 2005, of those arrested at the White House on September 26, 2005. The 104 defendants face charges of up to 6 months in jail and 0 fines.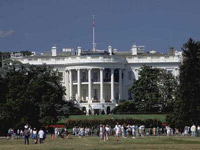 They went to the White House to request a meeting with President Bush or his representative, were denied that meeting, refused to leave the premises and were removed by the police. This was the largest mass civil resistance in DC in over a decade. The event was organized by United for Peace and Justice, nationwide coalition of more than 1,000 peace groups.
Two groups, Clergy and Laity Concerned about Iraq and Military Families Speak Out, were in the forefront of the September action, which was carried out in the spirit of Gandhi and Martin Luther King, Jr., as a moral witness and in obedience of higher laws than the law that restricts demonstrating without a permit at the White House.
The Buddhist Peace Fellowship (BPF), a nonprofit organization comprised of Buddhists and others seeking peaceful means to end the war, also formed an "affinity group" to take part in the nonviolent direct action at the gates of the White House. Twelve of the group's members were arrested, including John Barber of Boca Raton, Florida.
He said, "I was honored to have carried the letter from BPF to the gate of the White House. As I sat in meditation waiting arrest, I held a place for each and every being that has suffered because of this war: George Bush; his administration; all in Congress who sit in silence as this atrocity continues; the soldiers; their loved ones; and the men, women, and children of Iraq."
These groups will be represented on Wednesday in court by the following people, who are available for interviews in advance as well as on the day of the trial.
Clergy and Laity Concerned about Iraq
Rabbi Arthur Waskow - 215/844-8494, 215/805-5283. Awaskow@aol.com John Barber, Buddhist Peace Fellowship, 561-445-1548,
dodger8mo@hotmail.com
Also see Cindy Sheehan's statements about her civil disobedience to stop the
war: www.commondreams.org/cgi-bin/print.cgi?file=/views05/1026-29.htm
www.commondreams.org/cgi-bin/print.cgi?file=/views05/1027-20.htm