Buddhist nun fasts, prays at Glen Cove park for preservation of burial sites
By SARAH ROHRS, Times-Herald staff writer, Dec 6, 2005
Vallejo, CA (USA) -- A Buddhist nun from Sweden is conducting a week-long fast at the Glen Cove waterfront to stop the destruction of Native American burial sites. Anna-Catharina Rehnholm, a nun from the Nipponzah Myohoji branch of Buddhism, will complete the seven-day fast Thursday.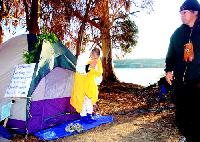 << Buddhist nun Catharina Renholm greets supporters Monday as she emerges from her tent near the Native American burial site along the Glen Cove waterfront in Vallejo. Renholm is conducting a weeklong fast, scheduled to end Thursday, in support of preserving the sacred sites. Photo: Mike Jory/Times-Herald
Native Americans consider the mostly undeveloped Glen Cove park a sacred spot that should remain untouched. Experts believe it dates back to 1,500 B.C.
Human remains, and various artifacts from the area, are in the Phoebe A. Hearst Museum of Anthropology in Berkeley. Rehnholm has been joined by several supporters.
Taking a short break from her steady praying and chanting Monday afternoon, Rehnholm said burial sites must be protected.
"For us, all living beings are sacred. All life is sacred. You don't desecrate. You don't disturb people who have passed away," she said in a Swedish accent. "It's macabre."
The singing and the steady beating of a drum generated at least two complaints, which drew police officers out to the waterfront site, said Linda DeOcampo, a Vallejo Inter-Tribal Council member.
On Sunday, DeOcampo said a Vallejo police officer told Rehnholm and members of a small group they would be arrested if they continued to disturb the peace.
Vallejo police did not return phone calls seeking comment Monday.
A sign on Rehnholm's tent informs passersby that she is chanting and fasting for preservation of sacred shellmounds.
The nun sleeps at the home of Linda and her husband Norman "Wounded Knee" DeOcampo of Vallejo, who help her set up the tent in the morning and take the tent down at sunset.
On Monday, Norman DeOcampo periodically lit a bundle of sage and slowly circled the tent while praying.
He said he fears that the Greater Vallejo Recreation District will disturb the waterfront burial site with a paved roadway, parking lot, benches and other park amenities.
A GVRD master plan detailing what should be done with the waterfront site will be issued soon. Shane McAfee, GVRD general manager, said he and the agency strongly support Native American desires for the land. He said the area will stay mostly undisturbed.
Rehnholm and other Buddhist nuns and monks joined Vallejo Inter-Tribal Council members on Nov. 25 for a 2-1/2 week walk to draw attention to saving what remains of Native American burial places in the Bay Area.
DeOcampo said walkers saw Indian burial sites covered with condominiums, swimming pools and parks.