Unified Buddhist Church of Vietnam (UBCV) marks 30 years of peaceful struggle
INTERNATIONAL BUDDHIST INFORMATION BUREAU, December 26, 2005
2,000 Buddhists commemorate the Unified Buddhist Church of Vietnam's 30 years of peaceful struggle for religious freedom, human rights and democracy
San Gabriel, California (USA) -- 2,000 Vietnamese Buddhists and 80 leading monks and nuns from the Unified Buddhist Church of Vietnam (UBCV) in Canada and the USA gathered at the UBCV's overseas headquarters at Dieu Phap Pagoda in San Gabriel, California on Sunday 18 December 2005 to commemorate the 30th Anniversary of the UBCV's movement for religious freedom, human rights and democracy.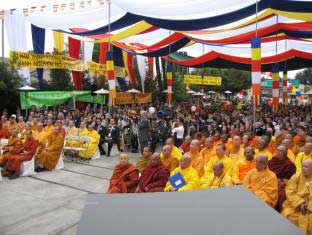 The event was co-organised by the UBCV's overseas office, the Vietnamese American Unified Buddhist Congress in the USA, and its official mouthpiece and information service, the Paris-based International Buddhist Information Bureau (IBIB).
"This is a historic occasion for Vietnamese Buddhists at home and abroad", said IBIB Director Vo Van Ai. "It gives us an opportunity to pay homage to all those who waged this nonviolent resistance movement over the past 30 years, and also to reflect together on how the UBCV can continue to promote religious freedom, human rights and democracy in this new and challenging period".
On an altar 60 feet long, surmounted by a symbolic torch over 50 feet high, 22 tablets bore the names of 22 UBCV monks, nuns and Buddhist followers who died in the UBCV's peaceful struggle. As their names were read out, 22 Buddhist monks from Thailand, the USA, South Korea and Sri Lanka solemnly laid wreaths of flowers and lit 22 torches in their memory. The 22 names included UBCV leader Venerable Thich Thien Minh, tortured to death by Security Police in Saigon in October 1978, 12 monks and nuns who self-immolated on 2nd November 1975 at the Duoc Su Zen Monastery in Can Tho to appeal for an end to religious persecution, and Thich Vien Thong, sentenced to death in Gia Lai for advocating religious freedom, human rights and democracy in Vietnam.
In a special message from the White House in Washington D.C., President George W. Bush sent "greetings to those gathered to commemorate the 30th anniversary of the Unified Buddhist Church of Vietnam's movement for religious freedom, human rights and democracy... The past four decades have seen the swiftest advance of freedom in history, proving that the desire for justice, human rights and freedom is universal. In this spirit, your organization has worked for the last 30 years for religious freedom in Vietnam...".
From Vietnam, Messages from UBCV Patriarch Thich Huyen Quang and UBCV Deputy leader Thich Quang Do were sent clandestinely from the Nguyen Thieu Monastery (Binh Dinh and the Thanh Minh Zen Monastery (Saigon) where the two UBCV leaders are under effective house arrest. UBCV Patriarch Thich Huyen Quang stressed that the self-immolation of 12 UBCV monks and nuns in Duoc Su Zen Monastery was the very first public protest in Communist Vietnam, one that inspired a wave of subsequent UBCV protests and encouraged other communities to express their legitimate concerns. But the Patriarch also emphasized that the 22 Buddhists named at the ceremony were just a few out of hundreds of thousands who died:
"The 22 monks, nuns and lay-Buddhists... whose memory we honour here today are symbolic figures of the UBCV's 30-year struggle. But they are not the only ones who died for this cause. Countless others perished in prisons and gulags hidden in the depths of the forests, died under torture in Police interrogation rooms, or were shot dead by firing squads in summary executions. These unknown victims will never go down in history, for the regime has concealed their names along with all its other terrible crimes".
On the future of communism in Vietnam, the Patriarch said: "Political regimes always contend that they will last forever. Yet has there ever been a political regime that has lasted forever ? Buddhism, on the contrary, has never claimed to be eternal. Yet it has spread and flourished now for several thousand years".
Summing up the past three decades, Venerable Thich Quang Do observed: "30 years is the time-span of a generation. For the past 30 years, a whole generation of Vietnamese has been unable to practice Buddhism in freedom and peace. For the past 30 years, the Vietnamese people have lived under a one-party state, a regime which not only rules by political dictatorship, but imposes an alien ideology that is totally incompatible with our people's identity and culture". Immediately after the fall of Saigon on 30th April 1975, he said, the government launched a violent campaign to suppress the UBCV in which thousands of Buddhists were imprisoned and killed, UBCV property confiscated, Buddha statues smashed, and monks forced to "join the army and fight in Vietnam's war of invasion of Cambodia"...
"As a means of resistance, we Buddhists used compassion and non-violence to overcome tyranny and brute force. We invoked Buddhist teachings of emancipation from suffering to break the fetters of imprisonment and terror. Thanks to this, the UBCV has survived until today. Day by day, the UBCV is effectively reaffirming its right to existence and religious freedom". This "historic achievement", he said, was due to the courageous efforts of Vietnamese Buddhists at home and abroad, and the tireless support of the international community.
Nevertheless, Thich Quang Do warned Vietnamese Buddhists to beware: "The danger we face today, as international pressure grows stronger, is that Vietnam is temporarily implementing more subtle strategies of repression. Instead of silencing Buddhists with gunfire and imprisonment, the new arms in their arsenal of terror are house arrest and tactics of division. They use house arrest, or administrative detention, legalized by Decree 31/CP, to turn pagodas into prisons, homes into jails, free people into slaves. They use tactics of division to create schisms within the UBCV leadership, using monks to oppose monks, so that Buddhist followers and outside observers see nothing but internal quarrels, without knowing that the Communist Party and the government are pulling the strings".
UBCV spokesman Vo Van Ai reviewed the UBCV's movement over the past 30 years, with such milestones as the 1993 demonstration of 40,000 Buddhists in Hue, the 1993 "Declaration" by Thich Huyen Quang calling for free elections and multi-party reforms, Thich Quang Do's "Appeal for Democracy in Vietnam" (2001) and his 2005 "New Year's Letter" calling for democracy and pluralism. In conclusion, Vo van Ai called on all religious movements, as well as democrats and dissidents from all currents of opinion to form a broad-based alliance for religious freedom, human rights and democracy in Vietnam.