Buddhist relics on tour
by Charles Burress, San Francisco Chronicle, February 11, 2006
Extensive collection of venerated objects on view
San Francisco, USA -- Buddha may have profoundly transformed history, but no waving spotlights or banner-toting blimps were on hand to welcome him Friday night in Berkeley, at least not on the material plane.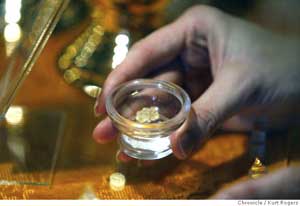 << These granular relics came from a Thai monk who carried them to Malaysia. Chronicle photo by Kurt Rogers
A quiet reverence prevailed at the opening of an exhibition of pearl-like objects that are venerated as remains of Buddha, or more accurately, of his most famous body, known at Gautama or Shakyamuni Buddha, who lived 2500 years ago in India.
"It's like being there with the actual person, as if Shakyamuni Buddha was with us today and we were standing in his presence," said Allan Bowman, an Antioch resident who works with disabled adults and is coordinating the Berkeley exhibition. "You would feel the same peace, the same calm."
The remains are part of a Buddhist relics tour that appears to be unprecedented in size and accessibility.
"Relics don't normally travel," tour manager Victoria Ewart told about 50 people who attended the opening ceremony of the exhibition at the Berkeley Shambhala Center. "They're normally kept inside sacred stupas."
And they don't often travel in large numbers when they do tour.
But the objects on display in Berkeley include more than 500 tiny pieces from at least seven collections of supposed remains of the historical Buddha, as well as another 500 pieces from 29 famous Buddhist saints and disciples ranging from ancient times to the present, Ewart said.
Some of the historical Buddha relics, for example, came directly from the Dalai Lama. Several of the relics from Tibet were formerly housed in stupas, sacred Buddhist shrines, destroyed by the Chinese Communist invasion, said Ewart, who works at the Land of Medicine Buddha center in Santa Cruz.
Another set came from the Meiktila Relic Museum in Burma, she said.
"I know they're extremely old because they've been in that museum a very long time, hundreds of years," Ewart said.
Viewers can have the objects placed on their heads for a special blessing. In Berkeley, they were arranged in small lotus jars around a Buddha statue amid incense and candles on a table covered in saffron-colored cloth and skirted by a net of tiny white lights.
"I think this would be unparalleled," Professor John Strong, chair of the religion and philosophy department at Bates College in Maine, said of the exhibition's scope and access. Strong, one of America's foremost experts on Buddhist relics, recounts his difficulties in viewing relics in Asia in the 2004 book, "Embodying the Dharma: Buddhist Relic Veneration in Asia."
"These are what are left behind from the cremation of various masters and teachers," Bowman said.
Added Ewart, "They look like pearls or crystals."
A Buddhist master is "able to control the materials in their bodies and produce these objects because he's practiced compassion and wisdom and the teachings and meditated intensively," Ewart said.
Strong said he has no doubt that such objects are found in the slow-burning funeral pyres of Buddhist monks, though he said he could not offer a scientific view of what might be left behind if ordinary people were similarly cremated.
Do viewers think they are real?
"Yes, I do," said Virginia Forbes, a retired social worker from Alameda who attended the opening Friday. "I do believe that. I think there's always going to be a skeptical point of view. I prefer to take a leap of faith, so to speak."
Ewart said, "We're pretty confident that these are the real thing."
Robert Sharf, chair of Buddhist studies at UC Berkeley, said Buddhist relics have become "a very serious subject of study," with several recent books, conferences and a four-year workshop devoted to it."
"Very few scholars if any are interested in trying to figure out where the early relics originally came from. That would be silly, as it is next to impossible to figure out."
He noted that parallels are often drawn to the many Christian relics around the world.
Those who encounter the relics -- whether Buddhist, Christian or other -- benefit in many ways, Ewart said. "People have sent us stories about healing experiences, auspicious dreams, feeling peace and joy, increased faith in their spiritual practice."
Forbes said she didn't have a mystical experience when she earlier saw the relics two years ago, but she did have "a feeling of peace."
The tour, organized by a Santa Cruz-based Tibetan monk, Lama Zopa Rimpoche, began in 2001 and was intended to end with the relics being enshrined in the heart portion of a huge, 500-foot-tall statue of Maitreya Buddha devoted to "loving kindness" in Kushinagar, India, where Buddha discarded the last of his earthly coils.
Maitreya is the name of the expected next Buddha, and the tour and yet-to-be funded, $200-million statue are part of the Maitreya Project (www.maitreyaproject.org).
However, the relics have proved so popular that Lama Zopa Rimpoche is considering keeping some on tour even after the statue is built, Ewart said. Also, they have been split into two groups so that more people can see them around the world, she said.
The Maitreya Project Relic Tour continues at the Berkeley Shambhala Center, 2288 Fulton St., today and Sunday, from 10 a.m. to 5 p.m. It will appear in San Francisco at Tse Chen Ling Buddhist Center, 349 Webster Street, Feb. 17, 18 and 19, 10 a.m. to 5 p.m. And it will return to Berkeley at the International House, 2299 Piedmont Ave, March 4 and 5, 10 a.m. to 5 p.m.