The Zen poet of Mill Valley
by Paul Liberatore, Marin Independent Journal, Feb 22, 2006
Mill Valley, CA (USA) -- If you're a poet, and you want to get read by a lot of people, which doesn't happen very often in the esoteric world of poetry, you have to get published in the New Yorker.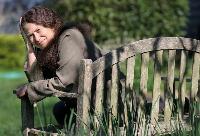 << JUST PUBLISHED: Mill Valley poet Jane Hirshfield, whose new book is called 'After,' received many letters and e-mails after having poems printed in the New Yorker. (IJ photo/Alan Dep)
For a poet, that would be the equivalent of a musician having a pop radio hit, an actor landing a part in a blockbuster movie, a grand slam in the major leagues.
Marin poet Jane Hirshfield has experienced that rare feeling of reaching a mass audience, of being at the top of her game, many times.
"The thing about having a poem in the New Yorker is that it's read by more people than anywhere else," she said as she sat cross-legged, lotus-like, barefoot, with her back to a mullioned window overlooking the immaculately-tended garden of her cottage in Mill Valley, home for the past 22 years.
"After being in the magazine, I got so many letters and e-mails from people I knew and didn't know," she continued. "And I'd hear stories from people that they went into someone's office at a university in Kansas or somewhere, and a poem of mine was on an office door. So that is the wonderful thing about being in the New Yorker - you get read."
While most poets labor in obscurity, grateful to have their work published in chap books and little poetry magazines, Hirshfield's sixth collection of poems, "After," has just been published in hardcover by HarperCollins. The book's final poem, "It Was Like This: You Were Happy," was published recently in the New Yorker.
"Her poetry is profound but very accessible," said Elaine Petrocelli, co-owner of Book Passage in Corte Madera, where Hirshfield read from "After" one recent evening. "To hear her read is an absolute delight."
Hirshfield's work has also appeared in the Atlantic Monthly, the Nation, the American Poetry Review, the Best American Poetry, the Washington Post, the Los Angeles Times and in Garrison Keillor's Writers Almanac, among other publications.
The New York Times Book Review described her style as "passionate and radiant."
A native New Yorker, Hirshfield is a petite 52-year-old with long brown hair, dangly earrings and clear blue eyes. As a college student at Princeton in the early 1970s, she went to see Zen poet Gary Snyder, the charismatic model for a character in Jack Kerouac's novel "The Dharma Bums," at an East Asian studies coffee hour. As a nascent Buddhist and poet, it was an "aha" moment for her.
"I really was so impressed with who he was and how he was," she recalled. "He wasn't foreign. He had an incredible twinkle to him, as well as an incredible presence. There was simply an exemplary way of being as a poet and a person that I saw, and I thought, 'That makes sense.'"
Then she laughed and added, "He had a pony tail and an earring. And I thought, 'So that's what a Zen practitioner looks like!'"
Inspired by Snyder, she became a full-time Zen practitioner when she was in her 20s, living first at the Tassajara monastery in the Carmel Valley and then at Green Gulch Zen Center in Muir Beach.
"Both poem-making and Zen practice are paths for cultivating attentiveness," she said. "What is at the root of both things is the desire to know life more fully."
In the early days of Greens, the pioneering vegetarian restaurant in San Francisco, she worked as a cook. "For the first three years, I cooked their dinners," she said, smiling at the memory.
After

Advertisement

eight years of monastic Buddhist study, she gradually returned to what she calls "a regular person's life.
"Which is one of the things I like about the model of Zen," she said. "One of the ways you do it is you go back into the world and look normal." And it was perfectly normal for her when her first real job was as a poet with the California Poets in Schools program.
These days, she lives with Carl Pabo, a biophysicist and cognitive scientist. "After" is dedicated to him, and when he called on the phone during this interview, she spoke to him tenderly and endearingly. "He's a scientist who loves poetry, and I'm a poet who loves science," she said.
Her gentle affection for people and everyday things is evident in her work, collected in this book as poems, short pieces she calls "pebbles" and longer "assays."
Hirshfield is a horsewoman with an Arabian gelding she keeps at Muir Beach. Here's an example of a pebble, titled "Sentence," that refers to a horse:
"The body of a starving horse cannot forget the size it was born to."
"The pebbles are not riddles or jokes, but they're like riddles or jokes in that they put something forward and it isn't finished until the person hearing it or taking it in puts two and two together," she explained. "They aren't finished except in the experience of taking them in."
The assays, taken from what most people know as a mining term, "are a meandering way of exploring something's nature," she said. "One (a pebble) is a like a flashbulb and the other (an assay) is a long look around."
Hirshfield doesn't consider herself a political poet, although some of the poems in "After" can be seen as dealing with such issues as war and global warming.
But mostly she is responding to the realities of her baby boomer generation at a time when its members are facing the challenges of mortality, loss and the confusing emotions of grief.
Czeslaw Milosz, the 1980 Nobel Laureate in Poetry, praised her "profound empathy for the suffering of all living things."
In one poem in "After," a woman whose husband has cancer lovingly tends to his ties and belts even after he tells her he's leaving her for another woman.
"Love doesn't stop, no matter how hard the circumstances," she said. "She still loves him and she'll take care of what she can for him for as long as she can."
Not that "After" is somber or sad. Quite the opposite. The beauty and compassion of the language takes care of that.
"The thing about grief is that it never actually goes away," she said, measuring her words. "It's like a stone which has been thrown into a pond. At first, the surface waters are very disturbed. Then, after a while, they get quiet again. But the stone sinks to the bottom and it never leaves. It's always going to be there. Part of the pond. Part of your life."