Givers honor 'alms round'
By Jeff Wright, The Register-Guard, April 5, 2006
Patrons bearing gifts of food await Buddhist monks on their walk around town
Eugene, OR (USA) -- University of Oregon student Susan Harrison was plugging coins into a parking meter when she looked up Tuesday and started to grin.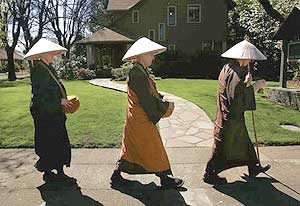 << Buddhist monk Rev. Oswin Hollenbeck of the Eugene Buddhist Priory leads Rev. Daishin from the Shasta Abbey in Northern California and Rev. Vera from the Portland Buddhist Priory as they traverse the streets of Eugene on an alms round Tuesday.
Pix: Brian Davies, The Register-Guard
Across the street, just south of the UO Bookstore, three monks were walking a straight line, all dressed in brown robes and wearing broad-brimmed, peasant-style hats. The lead monk carried a staff and rang a bell; the other two carried baskets.
Like many others, Harrison was perplexed by the sight, wondering if it was some kind of Buddhist holiday. But regardless of the purpose, she liked what she saw.
"It's cool to see that right out on the street," said Harrison, a graduate student from Elmira. "A lot of people are looking at them, but no one's jeering or making faces. I like seeing that level of tolerance."
For the monks, the lesson Tuesday was not merely tolerance but gratitude. Their walking trek, approved by city officials, was a traditional "alms round" in which they accepted unsolicited donations of food.
They were showered with gifts of fruits, vegetables, breads, pasta, olive oil and more - about a dozen bagfuls carted away by members of a small entourage of Buddhist faithful who trailed the monks in single file. Some of the food will be shared with other priories and local agencies such as FOOD for Lane County.
Monks have resorted to alms rounds since the days of the Buddha nearly 2,500 years ago, said Oswin Hollenbeck, the prior, or head teacher, at Eugene Buddhist Priory, a 33-year-old community established as part of the Order of Buddhist Contemplatives.
During the past decade, priories in the United States have re-embraced the practice of alms rounds, though Tuesday's was the first in Eugene. Hollenbeck, 50, was joined by two other shaved-head monks, Rev. Daishin from Shasta Abbey in Northern California and Rev. Vera from Portland Buddhist Priory.
The alms round is distinct from begging - the monks only stop when approached by a donor, and accept no money - and is intended "to express the interdependence between the monastic community and the lay community," Hollenbeck said. "We offer our teachings freely, and in turn allow people to give to us freely. It's an opportunity for people to express their generosity."
In keeping with their precepts, the monks decline any offers of meat, alcohol or garlic - the latter considered an aphrodisiac inconsistent with vows of celibacy.
The monks' two-hour walk got off to a delayed start. Christine Prescott and several other well-wishers waited for them at their advertised starting point with baskets and bags of food.
"I gave up on religion a long time ago, but Buddhism touches me like no other faith," said Prescott, of Eugene, who brought a bag full of fruits and vegetables. "It's all about compassion and giving."
The monks wended their way through campus, past Sacred Heart Medical Center and into downtown. Each time someone offered a gift of food, they offered a blessing and asked the giver if they wished to dedicate their gift to any particular person or purpose. Then, entourage member Ernie Rimerman, carrying a clipboard, wrote down the dedication on a sheet of paper - to be offered as a blessing in a subsequent Buddhist ceremony.
Lise Schmidt drove around for about an hour, her two teenagers in tow, before spotting the monks heading west on East 11th Avenue. She jumped out of her car and offered her food, then heard the invitation to identify the "merit" of her gift.
"Can I offer it to my mom?" she asked, in memory of her mother, Springfield resident Mercedes Weed-Schmidt, who died Jan. 22 when she was struck by a truck while on a bicycle trip.
By the time the monks reached Willamette Street, Kyizom Wangmo of Potala Gate, a Tibetan gift shop, was ready for them. Wangmo didn't hesitate when asked the source of dedication for her gift of food.
"World peace, baby," she said.
Midway through their round, the monks stopped for a break at the Eugene Public Library. Clutching a Diet Pepsi, Rev. Daishin said he'd forgotten how beautiful Eugene is.
"I remember hitchhiking here when I was 20 years old," he said. "I was a long-hair."
Hollenbeck, a practicing monk for more than 20 years, smiled. "Many of us were," he said.