Temples to fete Buddha's birthday
By Jason Kosareff, Pasadena Star News, April 27, 2006
Pasadena, CA (USA) -- Buddhists honor the 2,550th birthday of Gautama Buddha, starting this weekend with several area celebrations. "According to the lunar reckoning, the actual day is May 5," said Venerable Miao Hsi of the Hsi Lai Temple in Hacienda Heights.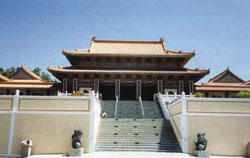 << Tsi Lai Temple, California
May 5 is the eighth day of the fourth month of the lunar calendar. That day is called "Vesak" and is recognized as Buddha's birthday.
Hsi Lai Temple, along with Dharma Seal Temple in Rosemead, organizes one of the biggest birthday bashes for Buddha. On May 21, more than 10,000 followers of a variety of Buddhist traditions will gather at Whittier Narrows for Vesak.
Worshippers at Hsi Lai celebrate Vesak starting Sunday with a dharma service at 10 a.m. in the Main Shrine of the temple at 3456 S. Glenmark Drive in Hacienda Heights. The service is open to the public.
"When the Buddha was born, according to legend, the dragons from heaven rained down perfumed water, hot and cold, to bathe the Buddha," Miao Hsi said.
Buddha's birth is closely linked to water, she said. Part of the ritual celebration of Vesak is bathing a statue of Buddha.
"For us, bathing the Buddha is symbolic of bathing the Prince (of Enlightenment) and also of purifying our own minds," she said.
The public can bathe a Buddha statue at Hsi Lai through next week.
Dharma Seal, at 3027 N. Del Mar Ave. in Rosemead, will have its own Vesak service on Sunday in Chinese.
Rosemead Buddhist Monastery will have its Vesak celebration on May 14 on its temple grounds, 7833 Emerson Place, Rosemead. For more information call (626) 280-1213.