Buddhist temple plans community center
By Jennifer McLain, Whittier Daily News, August 2, 2006
Hacienda Heights, CA (USA) -- The biggest Buddhist temple in the Western Hemisphere wants to get bigger. "It's more of a concept at this point," said Miao Hsi, director of the Hsi Lai Temple.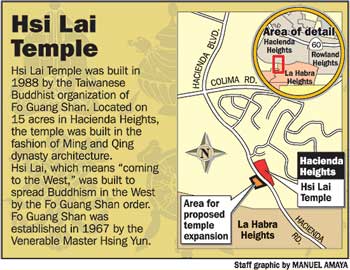 But temple representatives have met with Hacienda Heights residents and county officials to get their comments on the temple's preliminary plans to build an inclusive community center with conference rooms, a meeting hall, gym and a parking garage. The future community center will be privately funded, Hsi said, and no price tag is yet attached to the project.
"What they have proposed is building a community center that would accommodate the Hacienda Heights community," said David Sommers, spokesman for county Supervisor Don Knabe. "At least in theory, we support the idea."
Shou-Jen Kuo, executive secretary for Buddha's Light International Association World Headquarters, said he expects to have a blueprint to present to the community as early as September.
For the past two months, temple representatives have hosted a number of community meetings, Abbot Hui Chi said.
"This type of center seems to be what is needed," Chi said through an interpreter.
The Hsi Lai Temple, 3456 Glenmark Drive, was built in 1988 by the Taiwanese Buddhist organization Fo Guang Shan. It has watched its Hacienda Heights congregation grow through the years. Today, more than 10,000 households belong to the temple, officials said.
Ten years ago the temple bought 26 acres near the Puente-Chino Hills Wildlife Corridor just off Hacienda Boulevard. Of that, 5 acres would be used for the expansion, Kuo said. The other 19 acres would remain open space.
"We are looking to share the center with the community," Chi said.
The temple had plans to build a cultural center and issued a preliminary blueprint to the county nearly five years ago. There were community concerns, however, that it was too big and that traffic impacts would be too great.
This time around, Hsi said temple plans to reduce the size of the proposed community center.
Temple organizers said they hope to take whatever comments the community makes, including traffic concerns, and try to incorporate them in the plans.
"Anything you do in Hacienda Heights is going to increase traffic, so we are looking to build a \ bridge from the temple to the community center," Kuo said.
"I think it is a good idea. If all of the community groups can use it, and it is basically open to all, I think it is a contribution to the area," said.