Wheel of Life: Former monk illustrates spirituality, impermanence with sand mandala
by Richard Halstead, Marin Independent Journal, Sept 6, 2006
San Rafael, CA (USA) -- Former Tibetan monk Losang Samten bent over a circular table at the Marin Center in San Rafael on Wednesday and with one hand wielded his chakpur, a long-nosed metal funnel containing brightly colored sand, with the dexterity of a surgeon.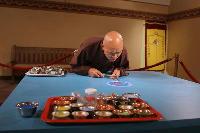 << PATIENCE: Former Tibetan monk Losang Samten creates a sand mandala in the Manzanita Room of the Marin Center in San Rafael. Jane Bay of San Anselmo arranged for the visit to help educate the public about Tibetan Buddhism and the plight of the Tibetan people under Chinese rule. IJ photo/Alan Dep
Samten, attired in a dark gray monk's robe, used his other hand to run a metal rod on the serrated surface of the chakpur, causing vibrations that sent the sand flowing slowly down like liquid onto his sketched mandala.
Hundreds, perhaps thousands, of years before the first Burning Man art festival, Tibetan Buddhists were creating intricate paintings made of sand to illustrate mankind's spiritual dilemma, and then dismantling them to demonstrate life's impermanence.
Samten drew a steady stream of spectators Wednesday as he began the creation of a traditional "Wheel of Life" sand mandala in the Manzanita Room at the Marin Center in San Rafael. Samten will continue working on the mandala through Saturday, when it will be ceremoniously swept away.
"There is a beauty, but beauty never lasts as beauty all the time," Samten said. "Life is impermanent."
Jane Bay of San Anselmo, the woman responsible for bringing Samten to Marin, knows all too well the ramifications of life's impermanence. Bay's Tibetan foster daughter, Namgyal Youdon, died at 22 in 2003 of a brain aneurysm just as she was preparing for a trip to the United States to visit Bay. Bay has written a memoir about her loss of Namgyal, just published by Clear Light Publishing.
Bay said she arranged for Samten to visit Marin as part of a multimedia blitz to educate the public about Tibetan Buddhism and the plight of the Tibetan people, who remain under the political domination of the People's Republic of China.
Photos of Bay's many trips to India, Nepal and Tibet are on display in the Manzanita Room. At 7:30 p.m. Saturday, Chaksampa, a Tibetan folk music and dance company, will perform at the Marin Center's Showcase Theatre.
Samten, formerly a monk at the Dalai Lama's monastery in India, said the "Wheel of Life" mandala uses symbolic and cosmological imagery to exhibit the psychic struggle within human consciousness. Three animals - a pig, a rooster and a snake - will be at the center of the wheel, Samten said. The pig represents ignorance, the rooster represents greed or attachment, and the snake represents anger.
"These three in the mind are the cause of suffering," Samten said. "If we want individual peace and global peace, we need to deal with these three emotions."
The outer ring of the wheel is divided into six quadrants or realms: heaven, demigods, human, animal, hungry ghost and hell. But rather than think of these realms as metaphysical

Advertisement

locations or even stages of karmic development, Samten said he regards them as temporary states of mind.
"I look at it like one individual life," Samten said. "Sometimes we're so happy that we're in heaven, and then an hour later we're not doing well. We're so disappointed it's like a hell."
Bay was in heaven when she met Namgyal in 1994 during a trip to Dharamsala, India with Samten. Bay became fascinated by Tibetan Buddhism after hearing the Dalai Lama speak at the San Francisco Theological Seminary in San Anselmo in 1978. She met Samten, who served as director Martin Scorsese's religious technical advisor on the film "Kundun," when he visited George Lucas's Skywalker Ranch. Bay has spent the last 29 years working as Lucas' executive assistant.
Namgyal, 13 when Bay met her, was at the Tibetan Children's Village in Dharamsala, an orphanage established by the Dalai Lama. Namgyal's mother died when she was an infant. Her father, a doctor of Tibetan medicine, sent her to India so she could receive a Tibetan education, which was impossible under the Chinese regime.
"She was the girl of my dreams," said Bay, who was unable to have a child during two marriages. "She was a motherless child and I was a childless mother. We had this instant connection."
Nambyal's sudden death nine years later brought her full circle.
"I was angry. I felt cheated. I felt like this was some kind of karmic trick. I didn't deserve this. She didn't deserve this," Bay said.
But Bay said it was ultimately the central tenets of Buddhism that allowed her to live with her loss.
"I took it out of myself and opened my heart to the suffering of others. I'm not the only person who has lost a daughter," Bay said. "Death is an inevitable consequence of life. We are all going to lose people that we love - not to mention our own ultimate death."