Dalai Lama Brings Divine Touch to the Faithful in Pasadena
By Louis Sahagun, LAT, September 12, 2006
Southland Tibetans and Mongolians meet in Pasadena to hear exiled religious leader's message of compassion.
Los Angeles, USA -- The gifts of greeting were simple but heartfelt and traditional — white scarves, a bowl of milk and a handful of barley. Children offered up songs and dances.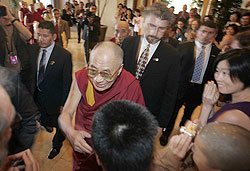 << WARM GREETING: The Dalai Lama arrives at the Westin Pasadena on Monday. In speeches, he tells adherents that kindness and compassion are the fundamental tools for building happiness and peace. It was the Tibetan Buddhist leader's 12th visit to the L.A. area. (Stephen Osman / LAT)
Nearly all of Southern California's estimated 250 Tibetans and many of its Mongolians gathered at the Westin Pasadena hotel Monday to welcome His Holiness the 14th Dalai Lama as he arrived for four days of teaching.
The gifts — and the songs and dances performed in a hotel banquet room — showed Tibet's exiled Buddhist leader that they were keeping the traditions of his homeland alive.
In return, the man with burgundy and saffron robes draped over his bony shoulders honored each of them with a special gift unavailable anywhere else, even in Asia, where tens of thousands of Tibetans travel great distances each year just to listen to his teachings.
He blessed them, in some cases with his touch.
"We hold him to be a divine being, and his touch is a blessing," said Tseten Phanucharas, a spokeswoman for the Dalai Lama. "For security reasons, however, access to His Holiness is extremely limited."
"His blessing is very important," added Buddhi Gurung, co-owner of a Gardena gas station. "For example, you may end up in a terrible accident, but if you've received his blessing, you'll be purified in heaven."
Gurung added, "Even being in his presence is enough."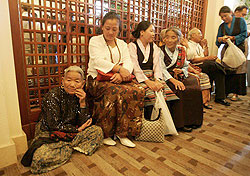 DISTANT TRAVELERS: Although many in the audience live in Southern California, some, like members of this family, planned a trip from Nepal to coincide with the Dalai Lama's visit. (Stephen Osman / LAT) >>
In the Dalai Lama's 12th visit to the Los Angeles area, his scheduled public appearances include teachings on Buddhism at the Pasadena Civic Auditorium and a talk Wednesday at the Gibson Amphitheater in Universal City on "Compassion: The Source of Happiness."
He will return Sept. 26 to address 11,000 women expected to attend the California Governor and First Lady's Conference on Women at the Long Beach Civic Center.
The Southern Californians were among 400 Tibetans and Mongolians in colorful traditional dress who traveled from as far as St. Louis and Nepal for the Dalai Lama's visit. For more than a hour, they sat in the ballroom and listened as he taught from a baronial chair with his legs folded beneath him.
Occasionally, he sipped warm water from a cup specially cleaned by Thepo Tulku, a founder of the Friends of Tibet group.
"A clean cup and warm water — nothing fancy about it," Tulku said. "But it's from our hearts, and it makes His Holiness happy. The more simple the gift, the happier he is."
The buzz surrounding his visits in September has the giddy intrigue of a superstar photo op.
Tickets for the Pasadena teachings and the 6,500-seat Gibson Amphitheater are sold out.
Yet the 71-year-old Tibetan leader's core message hasn't changed since he was installed as the 14th Dalai Lama in 1940 and exiled to India 19 years later.
Kindness and compassion, he likes to say in speeches punctuated with jokes and giggles, are the fundamental tools for building meaningful happiness and peace.
"I thought he would be an interesting speaker, and he's never spoken to a group of just women before," said Maria Shriver, who traveled to northern India in August on a personal trip to meet with him and extend a formal invitation.
During that meeting, the Dalai Lama asked, "What do women want to know?" she recalled. "I said, 'How to be compassionate while raising kids and tied to a BlackBerry, a computer, telephones and two jobs.' "
He agreed, she said, and suggested the themes of his speech would include encouraging women to practice compassion with confidence and courage, and to balance their fast-paced lives through inner reflection.
A week ago, the Dalai Lama dedicated Vancouver's international Dalai Lama Center for Peace and Education, an institute run by a board of leaders including former U.S. President Carter and South African Archbishop Desmond Tutu.
On Monday, the Dalai Lama seemed especially pleased when the audience rose to its feet and sang the Tibetan national anthem.
That was followed by an energetic traditional dance performed by a dozen children with drums dangling from straps off their left shoulders.
At the close of the 90-minute gathering, the Dalai Lama rose from his chair and handed everyone in the room a red "blessing string" to be worn around the neck.
"Everything he touches is blessed," Phanucharas said. "I'm wearing mine until it breaks."