The Dalai Lama's in Los Angeles
Tibet.net, September 14, 2006
Los Angeles, USA -- His Holiness the Dalai Lama on 11 September arrived in Los Angeles from Vancouver and received on arrival by the US State Department Diplomatic Security Service officers and Geshe Tsultrim Gyaltsen-la.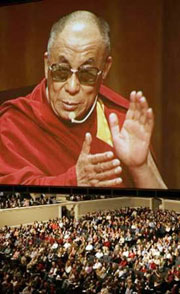 << An image of His Holiness the Dalai Lama is projected onto a large screen as he speaks to delegates at the Mind and Life conference in Washington November 8, 2005.
His Holiness and entourage members taken straight from the aircraft to the cars waiting below and driven to hotel Peninsula, Beverly Hills, where His Holiness had a private lunch and attended a function organsied by Dr. B.K. Modi concerning the feature film Dr. Modi is planning to make on the life of Lord Buddha.
The function was attended by well-known Hollywood film actors, directors, and scriptwriters. It was addressed by Dr. Modi, Thich Nhat Hanh and His Holiness. Thich Nhat Hanh's book on the life of Lord Buddha "Old Path White Clouds" will be the basis for the film.
His Holiness emphasised the importance of sharing the main universal message of the Lord Buddha of inter-dependency and inter-connectness through film medium with a wider audience and the main purpose should not be to spread Buddhism. The guests wanted a photo opportunity with His Holiness and this was done by groups at the end of the function and His Holiness left for Westin Passadena Hotel.
On arrival His Holiness gave audience to about four hundred Tibetans and Mongolians. His Holiness spoke about the special relationship Tibetans and Mongolians and his recent visit to Mongolia. In his address to the Tibetans His Holiness emphasised the importance to keeping our rich and unique linguistic and spiritual traditions alive and to take greater part in the democratic system of government we now have in place in exile. His Holiness said that the localTibetan Associations play a crucial role in this and every Tibetan should bear the responsibility.
The three day teaching on Jangchup Semdrel started from 12 September with two hours in the morning and two hours in the afternoon. During the lunch hours some private audiences were granted. This teaching was requested by Geshe Tsultrim Gyaltsen and his center Thupten Dhargye Ling is organising it. The tickets for the teaching were sold out months back. All the Sangha members are given free ticket and lunch during the teaching.
----------
Report sent by the Office of Tibet, New York