Honolulu Academy of Arts to sponsor exhibition in Bhutan
The Buddhist Channel, Sept 27, 2006
Newly conserved religious icons featured
Honolulu, Hawaii (USA) -- The Honolulu Academy of Arts and the Ministry of Home and Cultural Affairs of the Royal Government of Bhutan are co-hosting an exhibition of recently restored Bhutanese religious art October 7, 2006 at the Royal Banquet Hall in Thimphu, Bhutan.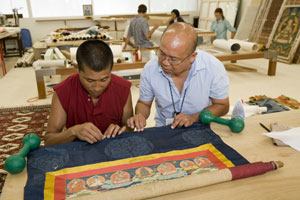 << Bhutanese Buddhist Monk Kuenzang (left) practices newly learned conservation techniques on Thangkas brought to the Honolulu Academy of Arts' Asian Painting Conservation Center in Hawaii for conservation under the direction of master conservator Eddie Jose (right).
Academy Director Stephen Little and Asian Painting Conservator Ephraim "Eddie" Jose will travel to Bhutan for the opening. The exhibition is the result of a mutually-cooperative restoration venture under the auspices of Jose, who directs the Academy's new Asian Painting Conservation Center, and Mark Fenn, Associate Conservator at the Asian Art Museum of San Francisco.
Major conservation efforts were initiated by the Academy in 2003 in preparation for the world premiere presentation of The Dragon's Gift: The Arts of Bhutan February 2008 at the Honolulu Academy of Arts. The landmark exhibition will showcase rare religious Buddhist art with a special focus on ancient ritual Buddhist dances, which have been preserved intact in Bhutan. The Dragon's Gift will be jointly organized by the Academy and Bhutan's Department of Culture.
The October exhibition in Bhutan will feature ten restored Thangkas and ten religious sculptures that will be included in The Dragon's Gift. There also will be a slide presentation with photographs of two Buddhist monks at work in Hawaii at the Asian Painting Conservation Center. In September, Bhutan sent two Buddhist monks, Namgay Dorji and Kuenzang, to study conservation techniques under master conservator Eddie Jose and his other apprentices. The monks will live and work in Hawaii for several months and then return to Bhutan to teach other monks new conservation techniques to preserve precious and ancient objects of cultural and religious importance.
The Dragon's Gift is a five-year cultural and artistic exchange program that includes conservation as a priority. The Academy is also working to create an inventory of important works of Bhutanese art and cultural properties in collections outside Bhutan, particularly in European and American museums. Other priorities include documenting ancient Buddhist dance rituals (Chham) associated with the Teshchu festival in Bhutan. The Academy has both art conservation and dance preservation teams working in Bhutan and has established a project office in Thimphu.
The Dragon's Gift will comprise primarily paintings, sculptures, clay, stone, metalwork, textiles, and ritual objects. Most of these objects have never been on public display outside of Bhutan. The Academy will also publish a full-color catalogue of the exhibition to accompany its presentation. Once it debuts in Honolulu, the groundbreaking exhibition will travel to the Mainland, U.S., Europe, Japan, and Australia.
For more information about the Asian Painting Center at the Honolulu Academy of Arts or The Dragon's Gift, please call (808) 532-8700 or visit www.honoluluacademy.org.