Priest brings Zen to San Francisco's neediest souls
by Justin Berton, San Francisco, Jan 5, 2006
Buddhist teaches meditation, holds memorials for homeless
San Francisco, CA (USA) -- Inside the community room of the Raman Hotel, a single-room occupancy hotel at Howard and Sixth streets, Jana Drakka set up a makeshift altar for a tenant named Guillermo who had died a week earlier.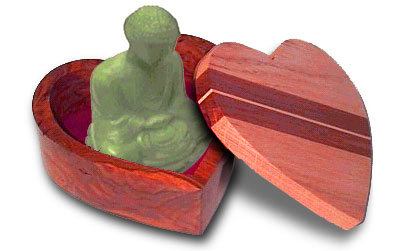 "Memo," as his fellow residents and caseworkers knew him, was a 76-year-old World War II veteran as well as an alcoholic who had ricocheted among the city's streets and homeless shelters.
He had spent most of his last three years at the Raman, one of city's low-rent SROs, and the 16 people who had gathered at his memorial reflected the tail end of his life: eight tenants from the Raman and eight social workers who had met him at rehab clinics, nursing facilities and a halfway house for parolees on the mend -- but not a family member in sight.
At the altar, Drakka, an ordained Buddhist priest, dressed in a layered kamboa, dropped pear incense onto a piece of charcoal and offered a prayer. "Memo," she said in her lithe Scottish accent, "we're here to give you a proper send-off."
In the past three years, Drakka has performed about 100 such memorials inside SROs in the Mission, Tenderloin and South of Market districts. No one keeps an official count of how many people die inside the estimated 500 hotels each year, said Sam Dodge, director of the Central City SRO Collaborative, but living conditions there are often stressful and uniquely fit for death.
The majority of the 30,000 residents are elderly and without health insurance, Dodge said; drug addicts, who often hole up in the cheap rooms, are more likely to overdose in an SRO than anywhere else in the city. In the past two months alone, at least nine people have died in Mission District hotels, said Christina Olague, coordinator of the Mission SRO Collaborative.
The caseload can keep Drakka busy. At 54, the priest has become the unofficial on-call chaplain to San Francisco's SRO constituency. In addition to the memorials, she conducts weekly meditation groups at five locations in what's believed to be the nation's first meditation network aimed directly at a homeless population.
Drakka was hardly born a Mother Teresa. Before she found Zen Buddhism, she was addicted to cigarettes, used drugs and was homeless. She also used her distinctly Scottish voice, which can be both grave and soothing, in a job as a telephone clairvoyant, charging $3 a minute for glimpses into the future.
But that was a past life.
"People will give you anything if you can tell them what's coming tomorrow," Drakka said before Memo's memorial. "Now, I much prefer helping people be in the present."
After Memo's send-off, Drakka changed out of her robe in the lobby restroom and boarded a bus to the San Francisco Zen Center at Page and Laguna streets. "That one was well attended," Drakka said afterward.
"Sometimes it's just me, a caseworker and a Coke machine."
Initially, Drakka wanted to be a nun. She grew up in Falkirk, a town in central Scotland, but became disappointed in Christianity when she realized she couldn't become a priest; the fact that she was lesbian didn't help. As a teenager, she smoked cigarettes, drank, took LSD and tried heroin.
By 30, she had moved to Amsterdam and engaged in the hedonistic lifestyle that city is known for. But it wasn't any fun being a lesbian in a place so open about sexuality, she joked. "I'd come from a place where we had to hide, lest we get put on a blacklist."
Along the way she began studying as a Wiccan priestess, honing the female intuition she said she'd felt since childhood. Shortly after she moved to San Francisco in 1989, she answered a newspaper ad seeking a person with "good psychic energy."
Looking back, Drakka said, she was always uncomfortable taking the money. Her clients, she soon learned, were usually poor and uneducated, and they sought news about when their finances would magically improve. "I finally realized it was disempowering," she said. "Pretty soon, these people are calling you, relying on you to tell them everything with what's going to happen in their lives. ... It wasn't really helpful."
At home, Drakka was caught in her own cycle of troubles. She was in an emotionally abusive relationship so devastating that she was later diagnosed with post-traumatic stress disorder, she said. The breakup left her homeless, living mostly in a friend's basement. Amid the tumult, she started reading a book that radically shifted her path:
"Street Zen," the biography of Issan Dorsey, the former San Francisco drag queen and drug addict who later became abbot of the Hartford Street Zen Center in the Castro.
Dorsey's biography, Drakka said, turned her toward Buddhist practice and eventually to a residence at the Zen Center.
Fourteen years later, Drakka still lives at the center, where she meditates three hours a day and lives on a $500 monthly stipend. "I'm glad I didn't come to Zen until I was 40," she said. "I woulda missed a lot."
Pamela Walker, a resident of the Mission Hotel for the past seven years, met Drakka at one of the priest's first memorials. Last year, Walker's husband, Richard Maggard, died, followed by the death of her best friend, Rene Goria, 80, also a resident of the hotel.
"I've been in chaos this year," Walker said one morning after a meditation group hosted by Drakka. Walker had cataracts removed from both eyes this summer, and she hasn't been able to work for several years. "Things have been so crazy, it's hard to keep my head on an even level. But these meetings, they help me free my mind."
Walker, who has been attending the meditation groups since July, she said she now meditates once a day in her room at the Mission, even though it can be difficult with the noise of rumbling buses, delivery trucks and street hustlers on South Van Ness Avenue below.
"But what am I going to do?" Walker asked. "Not meditate?"
The idea to host the first mediation group came in October 2004, from Laura Guzman, the director of Mission Neighborhood Resource Center. Guzman tried to contact the Dharma Punx, a group of young, urban meditators. But Guzman said her call went unreturned, so she called the Zen Center, where Drakka agreed to give it a try.
When Drakka arrived at the homeless clinic, as Guzman recalled, she found about 15 homeless people and SRO residents in the conference room who'd never meditated before. Drakka brought a meditation bell and a Buddha statuette, and said, "We're just going to be quiet for a moment and see what happens."
Two years later, Drakka has 40 regulars attending five meditation groups. In October, at the National Harm Reduction Conference in Oakland, Anibal Mejia, a therapist at the Mission Neighborhood Resource Center, presented a white paper on the effects of Drakka's work. Meditation, aside from lowering blood pressure and stress levels, can also promote a practitioner's self-awareness, according to a study published last year by Richard Davidson, a neuroscientist at the University of Wisconsin who studied data collected from a dozen Buddhist monks, including the Dalai Lama.
Mejia said that since Drakka has worked at the center, he's seen clients reduce stress and become more productive, especially methamphetamine addicts and alcoholics. In one case, Mejia said, a former meth addict credited meditation as the impetus for his return to the straight life.
"With this population, holding a focus is not an easy thing to do," Mejia said. "But it is a very effective thing. ... Jana helps us. We're just looking for something to make today a little better ... and build from there."
For the memorials, Drakka tries to learn about the dead from caseworkers and residents. One man, she was told, sat on a milk crate every day and drank vodka, not saying a word to anyone. So she included his love of drink in her homily. Many of the dead are veterans, she has noticed, and others are junkies or suicides.
"When I saw the dreadful conditions and the isolation the people lived in the hotels," she said, shaking her head one day, "it's what got to me. And the name is usually all they know about a person."
On a rainy Friday afternoon, just two days after Memo's service, Drakka returned to the Raman Hotel. This time, a man named Charles, 76, had died in his sleep. Drakka wore her formal robes to the service and carried a shoulder bag with white irises poking out of the top. Charles had four children, five grandchildren and four great-grandchildren.
He'd been homeless for about 10 years, according to a caseworker, and had lived in the Raman for the past year. When they found his body, the medics said he could have died from a stroke or heart attack, but no one was sure.
Unlike most of the memorials, family members attended this one. An ex-wife brought a framed photo of Charles from his driver's license, which had been enlarged to 8 1/2 by 11 inches. His well-lined face was topped off by a head of salt-and-pepper dreadlocks.
After the ceremony, the family members and residents mingled near the old television set, and Drakka repacked her items and thought about her week ahead. She had meditation groups to run, and she'd attend a memorial at City Hall for all the homeless people who had died in 2006.
Oh, yes, she recalled: She'd received a phone call earlier in the day from the Mission Hotel.
"This one, a suicide," she said.
-------------------
Editor's note: The last names of the deceased have not been published out of respect for the privacy of their families.