Dalai Lama offers up teachings
By Kim Vo, Mercury News, April 28, 2007
Thousands in bay Area learn about Buddhism
San Francisco, USA -- By the thousands they came to sit at the feet of and learn from the Dalai Lama, Nobel laureate and world's most famous Buddhist. Now, if they could only understand what he was talking about.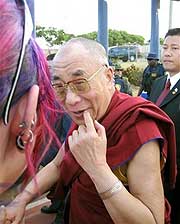 "It's very challenging," said Krysia Swift of San Mateo. "I'm mentally pedaling as fast as I can."
The spiritual and political leader for Tibetans and an international icon for peace, the Dalai Lama, 71, frequently visits the Bay Area during his U.S. tours - he came here from Hawaii and is next headed to Texas. His talks usually include easy-to-digest topics like happiness or compassion.
But the two-day seminar at the Bill Graham Civic Auditorium in San Francisco, which began Friday before a crowd of about 4,000, was on something both basic and profound: Buddhism.
Specifically, an intensive discussion on "dependent origination" - the interlocking cause-and-effect of the human condition - including a text from the 14th century scholar Je Tsongkhapa, who taught the first Dalai Lama.
The event, organized by San Jose's Gyuto Vajrayana Center, started with a series of prayers in Tibetan, Bali, Chinese and Vietnamese. Then His Holiness expounded on such mental pretzels as the nature of reality, Buddhism's Four Noble Truths, emptiness and "the wisdom of the no-self."
He discussed suffering, not the physical kind that even animals and insects experience, but the mental and emotional afflictions singular to humans.
It's important to recognize suffering, he said, speaking primarily in Tibetan, with a translator repeating the teachings in English. But suffering can also be vanquished once one learns the true cause behind it - and accepts that it doesn't really exist.
"Suffering is to be known," he said, "but there is no suffering to be known."
For those without a foundation in Buddhism, it could be a slippery concept to grasp - perhaps similar to how non-Christians struggle when first hearing about the Trinity.
"This is sort of like dropping into grad school," said Swift, an administrative assistant who was raised Catholic and is now learning about Tibetan culture.
It was hard for some Buddhists, too.
"It's very intense, high-level," said Alison Lin of San Francisco.
"Well, you read the book," said her friend Carol Wang, referring to the texts that the Gyuto center had prepared.
"But still," Lin, 35, said. "It's crushing. I'm really confused. Empty or not empty?"
For Lucia Sanford of Virginia - who timed her vacation to coincide with the Dalai Lama's visit - it helped to link the teachings to her personal life.
She had wanted, but was unable, to have a baby. "I desired it, craved it, was attached to the idea," she said.
Sanford, 45, later realized some of the heartache came from her own notions of family - what it should look like, how it should come together. She had built up this idea, and it was the idea that contributed to the stress when it didn't come true.
For Thich Tu-Luc, a monk at the Hayward Buddhist Center, the teaching was "very deep." But another important lesson was the one the Dalai Lama taught simply by walking across the elaborate stage, which was designed like a Buddhist prayer room.
The man many consider the incarnation of divine compassion, kept stopping to individually greet the monks bowing before him.
"His appearance is very big for us," Thich Tu-Luc said. "From his heart, we learn a valuable lesson of compassion, loving kindness for others."
IF YOU'RE INTERESTED
For more information, go to www.dalailamabay2007.com