Tibetan Aid Project Preserves Ancient Teachings
By Christine Lin, Epoch Times, May 12, 2007
San Francisco, CA (USA) -- Patrons of the Asian Art Museum in San Francisco were shown a glimpse of the little-known Tibetan culture and history this past Sunday. A slideshow, videos and a question-and-answer session raised awareness of the global efforts to preserve Tibetan culture.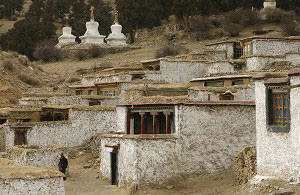 << An elderly Tibetan walks around Reting, an isolated Tibetan Buddhist monastery, sitting 13,530 feet above sea-level. The monastery, which dates back to 1056, was devastated by the Red Guards during the Cultural Revolution and is now slowly being restored by the resident monks. (Peter Parks/AFP/Getty Images)
The host, Tibetan Aid Project (TAP), is a non-profit organization based in Berkeley whose goal is to donate enough sacred texts to replace each volume destroyed in the Cultural Revolution.
With an ambition like that, TAP is no ordinary group. It is a link in a chain that is both a result of and a push in historical events. It began like this:
In 500 BCE, the Buddha reached enlightenment at the eastern Indian city of Bodh Gaya. Since then, Buddhism grew and then saw its decline. By the time Buddhism all but disappeared in India, monks had transferred the complete set of scriptures to Tibet. In 1959, when Chinese revolutionaries ravaged all but 16 of Tibet's 16,000 monasteries, Tibetans young and old fled to safety. Some traveled up to 16,000 miles to reach friendly shelter.
One such Tibetan, Lama Tulthang Tulku, found refuge in the Bay Area. Here he founded Dharma Publishing company—what is now a sister organization to TAP.
The chain turns back on itself here. Combining donations and volunteer hours with modern printing technology, TAP has printed over two million books since its founding. Then, every year, volunteers bring the books to the World Peace Ceremony at Bodh Gaya, replenishing Buddhist tradition at the very site of its birth.
Jack Petranker, director of the TAP, has worked with the organization for over 25 years. On his recent trip to Bodh Gaya, he helped hand out huge shipments of texts to eagerly waiting pilgrims.
"Their appreciation, that's the most striking thing—how happy they are, how incredibly grateful they are to receive these texts," he said.
TAP will be hosting a benefit gala dinner in November at the Four Seasons hotel in San Francisco. Further updates will be available on the TAP website, www.tibetanaidproject.org .