Former Old West theme park may turn into Buddhist center
By Matt Cooper, The Register-Guard, July 2, 2007
CROW, Oregon (USA) -- A Buddhist group has big plans for prime forestland in a remote valley that once was home to a popular - but illegal - cowboy theme park.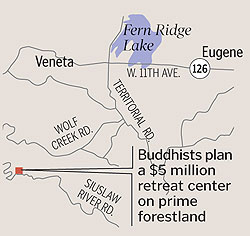 It's unclear, however, whether the religious group's development vision will fit with Lane County land use regulations, which prohibit most construction on prime timber property.
The Dzogchen Shri Singa Foundation, based in Nevada, announced recently that it has signed an agreement to buy a 160-acre parcel off Siuslaw River Road once known as Saragosa, an Old West entertainment park that closed in 1996 after run-ins with the county over land use violations.
The foundation said in a press release that it wants to build a $5 million retreat center where students can practice meditation and scholars can translate the Tibetan Buddhist canon into English.
But the land in this secluded valley southwest of Eugene-Springfield is zoned F-1 - prime forestland - and the county's rules require that it be used mainly for growing trees.
advertisement
Under the county zoning code, the land also could be used for parks and campgrounds, but there's nothing in code that explicitly allows a retreat center or church on the land as it is zoned.
No one from the foundation has returned calls to discuss development plans.
In a press release announcing the purchase, Eugene resident Michael Maretich, the foundation's vice president, said: "We look forward to being responsible stewards of this inspiring land."
The county is unable to say whether the Buddhists' plans are acceptable because the group has not submitted a development plan, county planner Matt Laird said.
He cautioned, however, that changing the zoning to accommodate the project "would be a very difficult case to make" given that the area surrounding the parcel is also zoned for forestry. The Buddhists' site is surrounded by forests owned by the federal Bureau of Land Management and by a private timber company.
The property's history is as colorful as the staged shootouts once held there.
Rod Hamby, former owner of the parcel, built Saragosa in the 1990s, erecting a handful of vintage-style buildings on the forestland that is dotted with pastures, flower meadows, creeks, springs and lakes.
Visitors rented rooms over a centerpiece saloon and enjoyed scripted gunfights staged by characters such as "Hardtack" and "Pestus."
But Hamby never secured the necessary county permits for the recreational park. His structures violated development rules that are meant to protect waterways and prevent pollution on forested land, the county said.
After years of failed efforts to recast his park as something that the county could approve, Hamby quit in 1996.
"I don't care if I have to bring a Cat in here, shove it all into a pile and burn it up," he told The Register-Guard. "I've just had it."
Hamby sold the property to Charles and Diane Huey in 2000 for $400,000, according to county records.
The Shri Singa foundation signed an agreement in May to buy the land for $1 million from Diane Huey, according to county records.
The foundation said it plans to make a $200,000 payment on the property soon.
The foundation is guided by Dzogchen Khenpo Choga Rinpoche, a Buddhist meditation master who once spent seven years in the caves of Tibet, clothed in tatters while seeking spiritual enlightenment.
The foundation said it hopes to use the retreat center to teach Buddhist methods that "increase personal happiness, foster social harmony and plant the seeds for world peace."
That the same land was once home to quick-draw contests and square dancing is a curiosity not lost on local residents.
"Kind of goes from one side of the pendulum to the other, doesn't it?" said Joe Canaday, president of the local grange.