Buddhist relics visit Concord
By Rebecca Rosen Lum, CONTRA COSTA TIMES, July 23, 2007
Concord, CA (USA) -- They shimmer like pearls in the candlelight, changing hue ever so slightly. But the sight thrills Buddhists in a way no jewels could.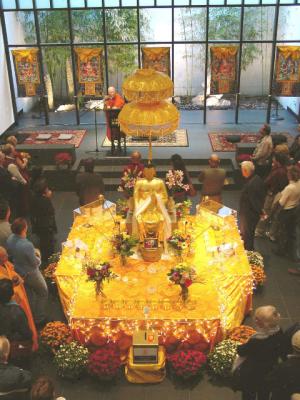 << The traveling Maitreya Project Buddha Relic Tour is coming to Concord in August (Maitreya Project)
These are the crystallized remains of 31 Buddhist masters, including the revered founder Sakyamuni, or Gautama.
After a stop in Las Vegas, the Maitreya Project Buddha Relic Tour brings the 2,500-year-old cremation remains to Concord in August.
The exhibit is one of two continuously circling the globe, offering visitors the chance to commune with the rice-sized crystals of bone, tooth and clothing fragments.
Some say when they see the relics, they feel a rush of energy. One visitor told Bowman he felt as though his molecules were rearranging into a more wholesome order.
"There is something magical or transformative that happens," said tour custodian Carmen Straight.
Visitors may stay as long as they like. Admission is free. Lama Zopa Rinpoche, spiritual leader of the Maitreya Project, set up the first traveling exhibit in 2001.
"Normally, relics do not go out on tour," Straight said. "The person collecting them decided it would be beneficial for people."
The tour will help publicize another of Rinpoche's projects: a health and study center and a 500-foot-high bronze statue of the Maitreya Buddha planned in northern India. Believers expect the Buddha to return one day in the person of Maitreya -- Sanskrit for "loving kindness."
In a ritual ceremony, handlers carry the substances in colorful containers over
Advertisement
their heads, placing them in glass cases surrounded by flowers, candles and saffron water provided by local volunteers.
Some visitors decline the invitation to pour water over a statue of the baby Buddha "because it seems really weird and strange," Straight said. "And that's OK."
It is virtually impossible to authenticate the remains, and in fact, "that is not a question," said Lisa Grumbauch, professor at the Graduate Theological Union Institute of Buddhist Studies.
As in Christianity, Buddhist relics are always said to have healing powers, she said.
No miracle accounts for the pearlescent appearance of the remains: Cremation leaves hard, jewel-like remains among the ash, she said.
The lineage is not a mystery either, Ewart said. Some came directly from the funeral pyre of a teacher who died within the year.
"For the older ones, there is a tradition of handing relics from teacher to disciple," she said. "The present-day Dalai Lama contributed eight of the relics. Some were enshrined in statues for hundreds of years."
Others were brought from the Meiktila Relic Museum in Burma.
Buddha once discouraged followers from worshipping his or any person's remains, scholars say. But later it came to be believed that a literal representation of enlightenment could inspire awareness of divine law.
"In a strange way, in relics you have an ongoing reminder of impermanence," said John Strong, religion chairman at Bates College in Maine and author of "Embodying the Dharma: Buddhist Relic Veneration in Asia."
More than 300 million adherents worldwide practice in some denomination of the faith.
"But we welcome all paths," Bowman said. "All rivers lead to the sea."
Bowman was a long-haired rock musician in his early 20s when Buddhism transformed his life.
"I used to have a very different lifestyle, not a holy lifestyle," he said. Now 33, he works with disabled adults in a day treatment program. He still plays music and sings. But everything else has changed.
"I live for this," he said. "Just to get the chance to be around these pieces, and to bring other people."
Relics in Concord
The Maitreya Project Relic Tour, 7 p.m. to 9 p.m. Friday, Aug. 3; 10 a.m. to 7 p.m. Saturday, Aug. 4, and Sunday, Aug. 5. 2151 Salvio St., Suite V, Concord. 925-755-1136 or 831-462-1487.
For more on Buddhism: http://www.fpmt.org
For more on the tour: www.maitreyaproject.org