Costumes, customs delight at Obon
By SUNITA VIJAYAN, The Salinas Californian, July 30, 2007
City's Japanese community rolls out its proud heritage
Salinas, CA (USA) -- The gloomy cast of the sky was in direct contrast to the cheery atmosphere at Sunday's annual Obon Festival in Salinas.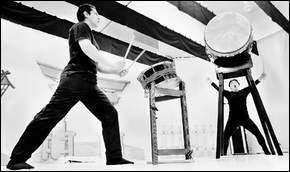 << Brian LoBue, left, and Irene Hashimoto open Sunday's Obon Festival at the Buddhist Temple of Salinas with Taiko drumming. Below, people browse pies and other authentic Japanese cuisine during the festivities. - Scott MacDonald/The Salinas Californian
The intricate art of ikebana (Japanese flower arrangement) and tea ceremony demonstrations were just some of the many things available at this year's celebration, held for nine hours at the Buddhist Temple of Salinas on California Street.
About halfway through the event, San Jose Taiko, a drumming group, performed for more than 200 people who surrounded the outdoor stage area.
Wearing white shorts and brightly-colored short robes, the 10 performers entertained their audience with high energy moves, utilizing percussion instruments including large barrel-shaped drums, bamboo flutes, hand cymbals and gourd shakers.
"It's my first time seeing the taiko drums here. I usually miss it (every year)," said Glen Sababo of Salinas, who attended with his 12-year-old daughter, Jazy. "They're pretty good too — I like it."
Besides watching sword, kendo and judo demonstrations, festival-goers sampled an array of Japanese food, including gyoza (Japanese dumplings), tempura, green-tea ice cream and teriyaki chicken box lunches.
As adults sipped beer and sake, children tested their skills at a selection of games including a bean bag toss and putt-putt golf.
Celebrated annually since 1960, the Obon Festival at the Buddhist Temple of Salinas is held as a fundraiser to improve and maintain the temple. Funds from festivals helped build the temple's multi-purpose hall in 1989.
Larry Tokiwa, temple president, said the festival has always enjoyed the support of the community. "I think it's very important to show our cultural heritage and religious rites," Tokiwa said.