Inmates say they are finding peace
By Callie White, Daily World, July 31, 2007
Stafford Creek, WA (USA) -- Two rows of men in street clothes stood in front of an altar decorated with a red silk tapestry, an incense holder, a pot of pink flowers and a bell.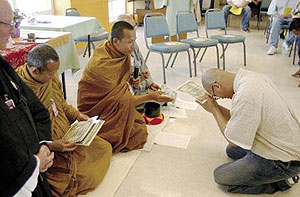 << DAILY WORLD / DAVID SANDLER Sarun Ngeth, an inmate at Stafford Creek, accepts a certificate of "refuge" in Buddha from Ratsamee Chutintharo.
A picture of the Buddha, drawn in colored pencil, hung in front of them as the men pledged to take refuge in him and to practice his method of attaining enlightenment.
"It's like a baptism," said Viet Vu.
Together with a dozen other men, he received a certificate and a new, Buddhist name making his commitment to following "the middle way" official.
To become Buddhist, the men had to promise to refrain from the destruction of living things, lying, taking things that are not given to them, sexual misconduct and intoxicating liquors and drugs.
Those promises are not to be lightly taken by anyone, but these weren't just any men; they were inmates at the Stafford Creek Corrections Center southwest of Aberdeen. They were men who had earned their berth at the prison for causing suffering.
The inmates, right down the line, all said they discovered Buddhism in prison. It is a practice — not a faith, they hasten to add — that has given them the kind of peace that they craved on the outside and is very rarely found on the inside.
Edward Moore, 30, said he started practicing seven years ago, six years into an 18-year sentence. When he was put in prison as a teenager, Moore said, he was selfish and full of himself. Like other prisoners, he had a chip on his shoulder. But it was a front; underneath he was miserable.
"Buddhism gave me a new outlook," Moore said. "It keeps me humble ... I see who I am, and I'm content with that. I have acceptance."
Indeed, Master Kim Nguyen, visiting from a Vietnamese Buddhist temple in Olympia, made clear that in Buddhism, suffering comes from desire. He encouraged the inmates to fill themselves in turn with feelings of loving kindness and gratitude.
"A person who opens heart to improve understanding, that is Buddhism," Master Kim said. "Change your life ... become a good person, maybe a noble person, and people respect you."
Master Kim was flanked by two monks in ocher robes, Chakkrit Phonphai and Ratsamee Chutintharo, and, in black, Scott Whitney, who until a few months ago served as a chaplain at the prison. The monks led rhythmic chants with unusual, soothing tones and unfamiliar words. Occasionally they translated the chants into English.
Doing a simple chant may not seem like the sort of thing that can change a life, especially since even the monks would say that Buddhism is less a religion than a practice.
George Nellans, an inmate, said he feels changed by his practice. Even in the stressful environment of prison, he said a little bit of meditation goes a long way.
"I'm not as stressed," he said.
The racial mix at last Thursday's "Buddha Day" ceremony, intended to celebrate the Buddha's birthday, was also something not typical to prisons. Men of every color and age mingled.
"In Buddhism, people come together, and in prison, people are often divided in regards to race," said Arthur Longworth, who has been a Buddhist for 15 years. The 42-year-old said he has been in prison since the age of 18. In that time, he said, Buddhism has gone from a poorly-understood curiosity to an accepted religious discipline.
More than just a chance for inmates to celebrate, the seven-hour-long celebration was a chance for inmates to see their families. Kriss Longworth, wife of Arthur for the past 13 years, said it's not easy seeing her husband so rarely. She held his hand throughout the music and skit performances put on by inmates.
Anna Padilla, mother of Seraphim Padilla, who was one of the inmates who took refuge, said it was hard having a child in prison.
"Not a day goes by that I do not think about it, that I don't cry," Anna Padilla said.
Usually when she visits, she has to sit across from her son and, separated by a plate of safety glass, and use a phone to talk. Thursday, she was not only able to sit by him and touch him, but also have a meal with him.
Anna Padilla said she was proud of her son for using Buddhism — she and her family are Catholic — to become a more focused man, as it led to his making goals and taking classes in prison.
"Right now, I'm just very happy," she said.