Buddhist temple seeks peace over food court
BY DANA BARTHOLOMEW, Los Angeles Daily News, Aug 12, 2007
North Hollywood, CA (USA) -- The Thai grub was just too good for its own good. The nationally acclaimed weekend food court at Wat Thai Los Angeles Buddhist temple closed Sunday, an apparent victim of its own success.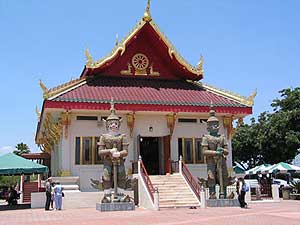 << Wat Thai Los Angeles, California
So many foodies have flocked to the Thai food nirvana that the temple has temporarily suspended food sales because of neighborhood indigestion over double-parking, noise and trash.
"We all agreed to put this on hold until we can come up with a solution for the parking," said Rosalyn Patmakan, attorney for the nation's first and largest traditional Thai Buddhist temple.
"People were parking on people's driveways so that they couldn't exit their homes. They had to call tow trucks to move the cars. Some cars even blocked fire hydrants."
The North Hollywood food court began more than 25 years ago as a way for templegoers to share homemade food with each other and their monks.
Eventually, the tasty Thai morsels became a way to raise funds for the temple, which conducts free Thai classes in language and dance for hundreds of children.
For just a few dollars, visitors could relish what many said was some of the best Thai food in the nation, with a dozen vendors dishing out
Advertisement
homemade spicy curries, succulent papaya salads, grilled satays and more.
Food from the gilded temple near Coldwater Avenue and Roscoe Boulevard soon became a darling of food networks, writers and bloggers coast to coast.
It also became a way for the Wat Thai temple to introduce other aspects of Thai and Buddhist culture.
"We like people to come and enjoy the food (in) a Thai environment," said a saffron-robed monk who declined to give his name. "You can experience Thailand here; that is the most important thing."
But with popularity comes parking issues. Over the past 20 years, the food court drew larger and larger crowds, which overwhelmed temple parking and spilled into nearby neighborhoods.
"We've had to chase them out from in front of our driveway," said David Fiske, 65, a neighbor who lives within sight of the temple. "They double-park on Roscoe and damn near cause accidents."
On Sunday, Thai food lovers from across the county bemoaned the loss of one of the Valley's best cultural gems.
"It's a chowhound emergency," cried one blogger on the Internet. "The weekend food court ... is slated to close."
Many had driven from as far afield as Alhambra and Beverly Hills to eat pad Thai noodles and other treats under striped tents.
Many Asians, who see sharing food as vital to their culture, said they were devastated by the food court loss.
If churches and synagogues could enjoy food socials, they asked, why couldn't Buddhists?
"I'm very upset about the closure," said Sherry Lynn Kupahu of Sherman Oaks, with a bag of chicken and peanut dumplings. "It's a travesty.
"It's the best Thai food in L.A. - hands down."
Added Paul Surapol, 55, of North Hollywood: "Only a couple of houses complained about their driveways blocked, and it closed down the whole event. This is not right.
"I believe it's the city that's shutting us down, not the temple."
Though many signed a petition to ask the city to permit the food court to continue, a spokeswoman for Councilwoman Wendy Greuel said city officials have not ordered the food court closed.
Instead, the Wat Thai temple has for three months met with neighbors and city representatives hoping to resolve parking and other complaints.
The temple, which is not permitted to sell food, plans to update its conditional-use permit to allow food sales, as well to obtain the needed parking.
"We plan on re-opening. We want to benefit the entire community," Patmakan, the temple attorney, said. "We want the neighbors to be happy; we want parking for our food court.
"We're growing very quickly, and we need to accommodate those changes."