Buddhist church turns 100
By David Castellon, Visalia Times-Delta, Nov 5, 2007
Visalia, CA (USA) -- While their lives have taken them to different parts of California, sisters Kikuko Nishi, Yoko Umeda and Seiko Tamura all came back Sunday to help celebrate the 100th anniversary at the Visalia Buddhist Church.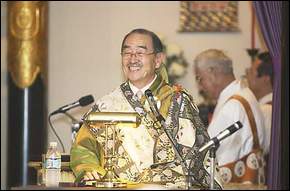 << Ron Holman
Socho Koshin Ogui speaks at the Visalia Buddhist Church on Sunday. He is the bishop of the Buddhist Churches of America. The temple is celebrating its 100th anniversary.
"It's home to us," said Umeda, 76.
That's because their father, who came to Visalia with his family to lead the Japanese congregation in 1940, essentially oversaw the building of the temple where it now stands at 514 E. Center St.
Before that, the congregation —which began as gatherings of Japanese immigrants, mostly farmers, who finally formed a church in 1907 — met at the Japanese Community Hall on east Center.
Nishi and her sisters were among about 100 people who gathered Sunday for a service that also marked the church reaching its centennial year.
The difference in the ceremony was obvious because Rev. Jo-Ren MacDonald, the church's minister, who usually leads services alone, was joined by eight other "kaikyoshi" (priests), among them Socho Koshin Ogui, a bishop and head minister for the Buddhist Churches of America.
"To celebrate one's 100th anniversary, that means tomorrow is possible," said MacDonald.
She extended credit for the small temple's longevity to all the ministers and church members of the past.
"Remember, everything you do in your temple you do walking on the backs of those who came before you," MacDonald.
Katsumi Ueda, a Buddhist minister from Oxnard, also praised the "pioneers" who started the Visalia church and urged the congregates to "strive for enlightenment not only for your church, but also for the community at large."
Sunday's ceremony was conducted in both English and Japanese, and while somber at times, it was peppered with some humor, such as when Ueda told the crowd, "See you next bicentennial."
"I think to have a congregation with a devotion to Buddhism to be in existence 100 years, it would not exist without its members," said Larry Ishimoto, 55, a member of the church board of directors.
He said that besides being a church, the temple also has been a gathering place and a place of support for Japanese immigrants and their ancestors here in the Valley.
Members say never was that more true than after World War II, when local Japanese Americans forced to go to internment camps returned to the Valley.
Nishi and her sisters agreed.
They said the temple had just been built, and their father didn't have time to dedicate it before he and his family were sent to an internment camp in Arizona.
"I think when my father built this temple it was to further the teachings of faith, the teachings of Jodo Shin," Umeda said.
Jodo Shin is the sect of Buddhism practiced at the temple.
But after the war, the sisters said, the temple became a place where Japanese immigrants and even their U.S.-born children could feel comfortable after their treatment by the government and bigotry by non-Japanese people.
Umeda recalled starting her freshman year of high school after returning from the camp in 1946.
"I wasn't scared, but I didn't feel comfortable. The kids kind of shied away from me."
Tamura, 67, recalled being called "Jap" by fellow first graders while Nishi said officials at her elementary school officials were nervous about her presence causing a conflict among the children.
But the children in her fifth-grade class — the same ones she had been friends with in kindergarten and first grade — still were her friends.
In fact, she learned after her return that her first-grade teacher had taken her
schoolmates to the train station to see her off when she left for the internment camp, but she never saw them.
Like the three sisters, Bryce Hatakeyama, 25, grew up at the Visalia temple.
He now attends law school in Fresno, but came home for the centennial event.
"I was in the 85th anniversary picture back there [in the temple], and I wanted to come back for the 100th," he said.
But finding time to attend the church isn't easy for him and others in his generation, Hatakeyama said. "This is always home for us, but it's always hard to find time."
In fact, of the eight or nine people who were in his childhood Sunday school class, he said most regularly don't attend services anymore.
"My generation, when they go off to college, they kind of don't look back."
And a lot are just moving away, added Kevin Komoto, 26, during a luncheon and taiko drum performance Sunday after the church service at the Visalia Holiday Inn.
He now lives in Los Angeles where he is studying to be a pharmacist.
"I notice the members dwindling," Komoto said.
But, he added, that he sees hope for the temple to grow and prosper. "When I see the children active in the church, I think it shows there is a lot of hope for it."
On Saturday, 26 members of the temple took part in another ceremony at the temple in which they received their Buddhist names, among them Elizabeth Bonles, 23, of Porterville.
She is one of a handful of Anglo members of the temple, after she converted to Buddhism about five years ago.
Her Buddhist name is "Chi Kai," meaning, "ocean of wisdom."
"I was really excited about it, actually. It was fun because I didn't know what it was going to be," Bonles said.
Though she doesn't share the same race as most of the congregation, Bonles said, "I've never been made to feel unwelcome, an outsider or anything."