What we believe: Life, faith intersect in Buddhism
By Sara Schilling, Tricity Herald, December 24, 2007
Kennewick, Washington (USA) -- Fran Eager is a practical woman. She's not the kind to have long debates about philosophy. She likes concrete ideas that make sense and connect to real life, always has.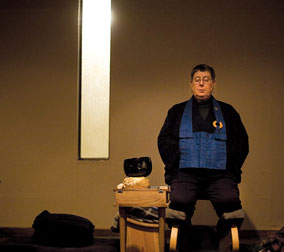 << Herald/Rajah Bose
Buddhist Fran Eager spends hours meditating every week from a kneeling chair in her garage, which she's converted to a zendo. "As the years have gone on, I've (become) a happier person because I've been working on accepting things as they are ... If you never get quiet, you'll never access that wisdom," she said.
That's part of what prompted her to explore Buddhism when she was in her 50s.
Eager, now 67 and a Zen Buddhist, regularly meditates, which is called sitting. She's converted the garage of her Kennewick home into a zendo, or meditation hall. It has different kinds of benches and cushions lined up in neat rows.
There's an altar with a Buddha statue, candles and red flowers at the front.
The Finch Sangha Zen Buddhist Meditation group meets there twice a week.
Eager, a retired bookkeeper, grew up Catholic.
But she never liked the Christian teaching that people are born broken, as sinners. Several years ago, she started looking into other faiths.
"I just started feeling that little niggling. I wasn't sure what I was looking for. I read (about Buddhist meditation), and said, ?Aha! I can do this! I like this!' " Eager said.
She has short hair and wears glasses. She's straight-forward and seems like a good listener. She has two friendly dogs, Penny and Bess.
Eager spends much of her time helping other people. She's taking pastoral education classes through The Chaplaincy and right now is assigned to help at the hospice in Kennewick.
She also goes to Coyote Ridge Corrections Center in Connell to sit with Buddhist inmates. She started the community service work to fulfill requirements of a three-year Buddhist training program. But she's kept going in part because she believes it fits with Buddha's teachings about compassion.
Buddhists believe Buddha was an enlightened teacher. Eager understands God as absolute truth.
She formally became a Zen Buddhist in 2001 through a Jukai ceremony. She took vows and was given a dharma name, Jikei, which means Mountain River.
Eager pounded on a wooden han hanging in the entry way of her house on a recent night. The long, flat board is used in Zen monasteries to call people to meditation.
She went into the zendo and sat on her bench. She breathed deeply and became still.
When Eager finishes sitting, she feels centered. She finds that wisdom and insight about her life come in those quiet moments or even days later, she said.
For her, that concrete connection gives the practice meaning.
Eager didn't move as cars outside made noises driving by. She didn't stir when Bess the dog walked into the zendo and sat down.
The brown pooch likes to be with Eager when she and others from the Finch Sangha group sit. She knows not to bark. Always practical, Eager has a cushion for Bess next to her own.