Monks in town to size up the sole
By Soumitro Sen, TheUnion.com, Jan 23, 2008
Donations, hospitality greet Tibetan visitors
Grass Valley, Nevada (USA) -- For the eighth straight year, monks from the Gaden Shartse monastery in southern India are visiting Grass Valley as part of their annual U.S. tour.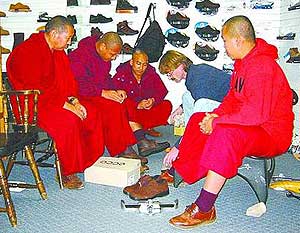 << Tibetan Buddhist monks have received new shoes for the past three years, donated by Richard Charnley, second from right, of Empire Shoes in Grass Valley.
And once again, local supporters are donating generously.
The monks raise from $20,000 to $35,000 each year in cash and check donations from the community, estimated Joseph Guida, founder of the local Sierra Friends of Tibet.
In addition, they receive free medical and dental checkups from local physicians and get donations of goods from local stores.
Richard Charnley, the owner of Empire Shoes on Sutton Way in Grass Valley, donated European comfort shoes - each pair retailing at $150 to $200 - to the monks two years ago. He intends to do the same this year.
Charnley lets the monks choose any pair of shoes they want from his store.
"I'm aware of what China did to their country, so I really feel for them," Charnley said. "The other thing I love about them is every morning they pray for world peace. I respect their lifestyle and beliefs and want to support them."
The BriarPatch Co-op in Grass Valley offers nourishment.
"We donate food to them - vegetables, rice, lots of milk and tea," said general manager Paul Harton. "We try to give them whatever they want.
"They bring a different culture to our community and are very peace-oriented," Harton said.
The monks have visited BriarPatch to bless the store, Harton added.
Local residents such as David Schwartz also are enthused about the Tibetan visitors. He and his wife, Susan, converted to Buddhism in 2000 after attending a public event in Southern California where the Dalai Lama was present.
The Schwartzes sponsor three monks at the Gaden Shartse monastery, spending a total of about $1,000 yearly.
When the monks are in town, David Schwartz's "basic function is to open the halls (at St. Joseph's Cultural Center) in the morning for the mandala (the sand pattern the monks create during their stay) and drive the monks to various doctor and dentist appointments," Schwartz said.
"We also have them over at home and serve them a meal," he added.
Various groups from Gaden Shartse tour North America, Europe and parts of South America every year. With the money they've raised over the years, the monks have built a bigger library at their monastery, a new prayer hall, a debate courtyard and a hospital which remains unfurnished due to lack of funds, Guida said.
The money also is used to maintain the monastery and provide food and clothing to approximately 2,000 resident monks, Guida added.
Tibet was invaded by China in 1950, leading the Dalai Lama and thousands of Tibetans to seek asylum in India.
The Gaden Shartse Monastery was established in southern India in 1969. The original monastery with a similar name had existed in Tibet since the 15th century.
Before the Chinese invasion, Buddhist monks lived on alms and donations from Buddhist devotees, said Tsering Dhondup, the translator of the present monastic group visiting Grass Valley.
In addition, families of monks and nuns sent money for their relatives' food and other needs, Susan Schwartz said.
But now as refugees, the monks need to support themselves, Dhondup said. They do so by traveling the world in fundraising trips, creating sand mandalas, sharing their culture and creating awareness about the political situation in Tibet.
The creation of the mandala can be viewed at St. Joseph Cultural Center, 410 S. Church St., from 10 a.m. to 7 p.m., Monday through Saturday, and from 1 p.m. to 6 p.m. through Feb. 2, when the mandala will be dissolved at 7 p.m.