Ancient teachings get modern twist
By Tom Kisken, Ventura County Star, February 14, 2008
Song-writing lama references Google, karma in CLU talk
Thousand Oaks, CA (USA) -- The fourth reincarnation of a Buddhist lama sat in a chair on wheels at the front of a university lecture hall, at one point spinning 360 degrees, trying to lend balance to a world he pronounced out of sync.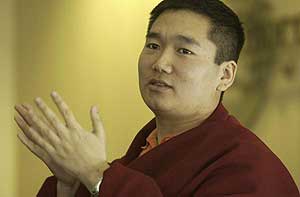 << Jason Redmond / Star staff Sabchu Rinpoche, a lama from Nepal, discusses "Buddhism and Spiritual Meditation" at California Lutheran University on Wednesday. Rinpoche now lives in Seattle.
"A single dominant powerful species at any given moment of time will cause self-extinction," Sabchu Rinpoche said in between bites of a banana and a sandwich after lecturing Wednesday at California Lutheran University in Thousand Oaks. "If you continue being that, you are not destroying just yourself, you're destroying everything."
The 26-year-old lama from Nepal spoke to students about being in sync with nature and other beings in the world. Mixing old and new, references to Gucci bags and Google juxtaposed by traditional red robes, he spoke about karma and transformations that elevate people from confusion to enlightenment.
He blamed global warming on people's lack of connection to their environment. He said people fall out of tune with their true frequencies and their real selves.
And by the end of his talk, he had people in the audience sounding, well, like him.
"Everything that has positive input has positive output," said Adrian Grimaldo, a senior studying business administration. "If everything is united in good, good should come from it."
Teaching Buddhism in U.S.
When Rinpoche was 3 years old and in a temple in Nepal, he announced to monks and others that he had been there before, describing things he shouldn't have known and painting vivid, elaborate scenes. He was declared the reincarnation of a high lama, becoming the fifth Dilyag Tulku Sabchu Rinpoche.
Three years later, he became a monk and began his education in monasteries, separated from his mother. He's a regent of the Karma Kagyu Monastery near Katmandu but lives in Seattle, where he teaches Buddhism and leads a meditation circle.
He sees himself as a bridge between ancient teachings and modern tools. He's a songwriter with an album that pairs Buddhist lyrics with Nepalese songs.
"It's one of the chart-busters in Nepal," he said. "We were number one."
His music can be sampled on YouTube, and he characterizes the songs as a way of teaching. But reaching Americans is harder because the concepts of reincarnation and karma seem so foreign.
Helping people find clarity
The key is to find ways to present lessons in candy-coated packaging. Rinpoche wants to make movies that incorporate Buddhist wisdom into stories that will get past people's initial skepticism.
His goal is to help people find clarity.
But that transformation is something they have to make on their own.
"You need to work on yourself and as you work on yourself, you need to be patient," he said.
About 80 people listened at CLU, peppering him with questions about God, gender and meditation.
Some walked away transfixed.
"It all made sense," said junior Kelly Balch. "It can definitely teach us Americans not to worry about materialistic things. By bettering ourselves, we better the world."
As part of a tour through Southern California, the lama will speak in Santa Barbara tonight, Feb. 21 and 22. For more information, call 569-0099.