The story behind the Dalai Lama's visit to Seattle
By JOHN IWASAKI. Seattle P-I, April 3, 2008
Co-founder of nonprofit played key role in arranging trip
Seattle, WA (USA) -- The seed for Seeds of Compassion, a gathering in Seattle featuring the Dalai Lama, was sown in a central Idaho resort community on the fourth anniversary of an American tragedy.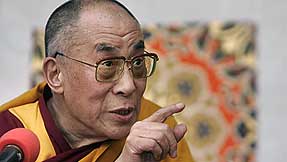 Delivering a "healing address" in Sun Valley on Sept. 11, 2005, the world's most famous Buddhist monk offered guidance on dealing with heartbreak and injustice, be it a terrorist attack or lesser difficulties in life.
"Through more effort you can change, then share with others. Compassion begins with one person," he told a rapt audience of 10,000 people.
One of them was Dan Kranzler, president of the Bellevue-based Kirlin Charitable Foundation, which supports projects that help children and families become lifelong learners and compassionate members of society.
Inspired by the address, Kranzler met with the Dalai Lama's emissary, Lama Tenzin Dhonden, and began sharing his vision for putting compassion into action, starting with children and those who influence them.
Now, 2 1/2 years later, the ambitious dream has sprouted into a five-day event starting April 11 that seeks to touch everyone -- not only youths and educators, but philanthropists, politicians, businesspeople and clergy of different faiths -- with the message that kindness and compassion form the critical bedrock for a better society.
That message, to be delivered in public forums by the exiled political and spiritual leader of Tibet in his third visit to Seattle over the past 30 years, has resonated far beyond expectations.
More than 150,000 people have secured tickets to attend panel discussions, speeches and artistic performances, all of which are free except for two benefit concerts, one featuring musician Dave Matthews.
Each day links compassion to a specific area, such as science, business and spirituality. Speakers range from brain science researchers to Nobel Peace laureate Desmond Tutu, the South African archbishop.
No more seats are available for any ticketed event -- even a Qwest Field gathering is full -- although about 80 public workshops remain open.
Sponsors have given $2.75 million to stage the event, along with more than $3 million in donated services, and 1,500 volunteers have signed up, said Kranzler, a wireless technology entrepreneur and a follower of the Dalai Lama. Along with Dhonden, he founded Seeds of Compassion as an initiative of the Kirlin Foundation.
The Dalai Lama and Tibet have been in the headlines since mid-March as Tibetan protests against the ruling Chinese government turned deadly. China's leaders accuse the Dalai Lama, who has lived in Dharamsala, India, since 1959, of organizing the violence to sabotage the Summer Olympics in Beijing.
The Dalai Lama has denied the charges but not denounced the Chinese leaders in response -- "He says there are no bad people, only bad ideas," Kranzler said -- in keeping with his teaching.
"For a person who cherishes compassion and love, the practice of tolerance is essential, and for that, an enemy is indispensable," the Dalai Lama, 72, once said. "So we should feel grateful to our enemies, for it is they who can best help us develop a tranquil mind."
Nurturing kindness
To outsiders, the Dalai Lama may seem surrounded by mysticism, but his exile has been "a blessing in disguise," providing him a platform to reach a wider audience, said Tashi Namgyal Khamsitsang, president of the Tibetan Association of Washington.
Though Tibetan Buddhism is only a small branch within the global tree of Buddhism, the Dalai Lama transcends faiths to become "probably the best-known religious figure in the world, with the possible exception of the pope," said Jack Olive, associate dean for ecumenical relations at Seattle University.
The reason for that is complex, said Robert Thurman, professor of Indo-Tibetan Buddhist studies at Columbia University and president of Tibet House U.S., a nonprofit dedicated to the preservation and promotion of Tibetan civilization.
The Dalai Lama is the only Buddhist leader to have been awarded the Nobel Peace Prize, receiving it in 1989, Thurman said this week via e-mail from Bhutan, south of China.
"He represents the Tibetan people, who are under Chinese occupation and suffering a cultural genocide campaign, and he insists on nonviolence and dialogue even in response to violent assault and injury," Thurman said.
For the Dalai Lama, the emphasis on compassion "comes from his heart," Dhonden said. "The message can't be separated from his beliefs. Help others. If you can't help, at least do not harm."
Though that would make the Dalai Lama a logical candidate to place the spotlight on compassion, a five-day discussion on the matter might seem overblown, if not a bit warm and fuzzy. Not because the topic is faulty -- who can be against increasing kindness and empathy? -- but because compassion seems a basic virtue that could be instilled without the services of a world leader and a price tag of millions of dollars.
But the practice of compassion hasn't happened enough, said Kranzler, and the cost to society and taxpayers is high, with the criminal justice system -- cops, courts, prisons -- swallowing up government budgets.
"If we don't set the right foundation for our children, everything else we do is more complicated and more expensive," he said.
Kranzler's foundation, formed in 1999, supports a variety of early childhood learning, parenting, art, science and teaching organizations, believing that healthy social and emotional development from infancy is crucial and is fostered through positive relationships.
"We can actually shape the brain and set in place the foundation for all future development," said Ron Rabin, executive director of the Kirlin Foundation and a board member of the Collaborative for Academic, Social, and Emotional Learning at the University of Illinois at Chicago.
To that end, Seeds of Compassion is focusing on nurturing kindness and compassion in children and those who touch their lives. It has produced curriculum and reading lists, promoted continuing education for teachers and clinicians, and provided information on local and national organizations that encourages strong social and emotional development.
'Sharing your piece of cake'
At Stevenson Elementary in Bellevue, where teaching about ethics and global issues already is part of the fifth-grade curriculum for gifted students, teacher Paula Fraser has drawn attention to the Dalai Lama's teachings.
Her 24 students entered a World Affairs Council essay contest on compassion and created artwork, many pieces of which depicted hands of different races of people clasped over the Earth.
They combined their words and images this week in a digital presentation that will be sent to their sister school in Israel, part of a project of Bridges to Understanding, a nonprofit Seattle organization that is a program partner of Seeds of Compassion.
Compassion, the students said in one-sentence definitions accompanying their art, is "the world together as one nation," "helping others climb higher," "growing hearts for others" -- even "sharing your piece of cake."
The Dalai Lama "says you can't have peace till you understand your enemies," said student Maya Sullivan, 11.
Although he describes himself as "a simple Buddhist monk," the Dalai Lama has been regarded by his followers as the reincarnation of the 13th Dalai Lama since he was 2 years old. Dalai is "ocean" in Mongolian; the title means teacher whose wisdom is vast as the ocean.
Compassion is a core quality in Buddhism but vital to other faiths as well. Although not a religious event per se, Seeds of Compassion will conclude with discussions on the connection between compassion and spirituality.
Seattle University's Olive, who is involved in planning that session, said he has been amazed at the participation of representatives of various faiths, or no faith, who may have previously shunned ecumenical efforts.
"I suspect that what will happen is that some of the so-called seekers (of faith) will find that people engaged in organized religion are not crazy, weird people, but deeply founded in one tradition or another," Olive said.
Whether speaking to an audience of tens of thousands or just one person, the Dalai Lama brings "the universal sense of truth and compassion," Kranzler said. "You do not have to be Tibetan or Buddhist to hear that."
SEEDS OF COMPASSION EVENTS
The Dalai Lama will be in Seattle April 11-15 to headline Seeds of Compassion, a gathering designed to nurture kindness and compassion in the world, starting with children and those who influence them.
All events are full except for public workshops at various Seattle Center venues on April 13 and 14 from 10 a.m. to 7:30 p.m. each day, and on April 15 from 3 to 6:30 p.m.
Also, a music, art and dance benefit concert featuring the duo of Tingstad and Rumbel and others will be held April 14 at 7 p.m. at McCaw Hall at Seattle Center. Tickets are $65 and available through Ticketmaster or by calling 206-628-0888.
The following events, each featuring the Dalai Lama, are full and will be webcast at seedsofcompassion.org and broadcast on the channels indicated.
APRIL 11
# 9 to 11 a.m. -- The Scientific Basis for Compassion. Includes panel of leading researchers. UWTV Channel 27.
# 12:30 to 2:30 p.m. -- From Knowledge to Compassion Action. Includes leaders in compassion and empathy. UWTV Channel 27.
APRIL 12
# 1 to 3:30 p.m. -- The Heartbeat of Humanity. Includes a diverse celebration of compassion expressed through music, art, dance and spoken word. KONG 6/16.
APRIL 13
# Discussion featuring the Dalai Lama on the importance of philanthropy in social, emotional and early childhood learning.
APRIL 14
# 10:45 a.m. to noon -- Children and Youth Day. Includes 15,500 students and educators expressing compassion through art and stories. Seattle Channel 21 and UWTV Channel 27.
# 3 to 5 p.m. -- University of Washington honorary degree awarded. Seattle
Channel 21 and UWTV Channel 27.
APRIL 15
# 9:30 a.m. to 1:45 p.m. -- Youth and Spiritual Connection Day. Includes an interfaith discussion with South African Archbishop Desmond Tutu and others.
UWTV Channel 27 - For more information, go to seedsofcompassion.org.