Buddhist monks build sand mandala in Everett
By Eric Stevick, HeraldNet, April 9, 2008
EVERETT, WA (USA) -- As curious onlookers recorded the methodical movements with flashing cell phones, the Buddhist monks practiced their ancient craft with handmade tools.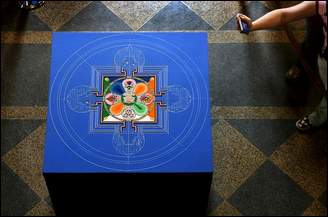 << Kevin Nortz / The Herald
An onlooker uses a cell phone to take a picture of a mandala, artwork created with sand, in progress at the Monte Cristo building in Everett on Tuesday. Buddhist monks will continue work on the mandala through Friday.
Their disciplined hands funneled each colorful and purposeful grain of sand into place.
In monastic robes, Venerable Tenzin Thutop and Venerable Tenzin Wangchuk glided silently around the table -- sometimes side by side; sometimes across from one another -- with their eyes fixed on their work.
Their mandala, a sacred composition created in sand, drew more than 100 spectators into the lobby of the historic Monte Cristo building in downtown Everett on Tuesday afternoon. Visitors said the artwork crossed religious and cultural lines.
"I thought it would give us the opportunity to be exposed to something that would be a once-in-a-lifetime experience and be a chance to experience some peace in this chaotic world," said Lynnwood resident Isabel Doran, an Ecuador native who brought her 2-year-old son, Santiago, with her.
Tenzin Thutop, who entered the Dalai Lama's personal monastery when he was 13, said the mandala they are creating this week "is really (about) compassion and understanding the different levels of compassion."
The monks from the Namgyal Monastery Institute of Buddhist Studies in Ithaca, N.Y., are making the circular mandala of Chenrezig, the Buddha of great compassion. Chenrezig means "One who looks with an unwavering eye."
Chenrezig appears in the center of the mandala as a lotus flower in a moon disc. The work will spread out from there over the next three days, with each element of the design conveying its own meaning in Tibetan Buddhist culture.
Tuesday's gathering was particularly special for Lobsang Dargey, a 34-year-old Everett businessman who practiced as a Buddhist monk from age 13 to 26 and helped organize the visit with the Arts Council of Snohomish County. Skills he learned acquiring food and medical care for monks and orphans have helped him find success in the business world.
"This is a dream come true for me," he said, watching the appreciative crowd observe the sacred art form.
For centuries, mandalas were created as part of secret ceremonies. In an effort to preserve Tibetan culture, the Dalai Lama opened the artwork to the West 20 years ago.
As they do with other mandalas, the monks will dismantle their work and cast the particles into a body of water, a process underscoring their value of detachment from the material world.
The rarity of the opportunity was not lost on Mukilteo resident Pam Gompf, who brought her three children with her Tuesday and plans to attend the Dalai Lama's visit to Seattle later this week. Gompf, an artist who paints finely ornate Ukrainian eggs, appreciated the skill it takes to create a mandala.
"It's just an amazing piece of art and culture," she said.