Local Buddhist monks return to Vietnam as part of historic trip
By GARY WARTH, North County Times Staff Writer, Jan 13, 2005
Escondido, Calif. (USA) -- Twenty North County Buddhist monks and nuns left for Vietnam this week to join Thich Nhat Hanh, teacher of Escondido's Deer Park Monastery, in his historic return to his homeland.
"It indicates to us that the country is open to change, to guide the people in a more spiritual way," said Deer Park Monastery Brother Phap Dung.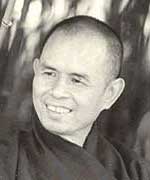 Thich Nhat Hanh (pronounced Tick-Naught-Han) was a symbol of Buddhist struggle in Vietnam during the war, and the government there had been afraid that his return would call attention to the past oppression and cause tension, said Dung, 36.
Things appear to be changing, however. Thich Nhat Hanh, 78, known to his followers as "the Teacher," is being allowed to travel in Vietnam and teach about peaceful resolution for the first time in 39 years.
The world-renowned Buddhist monk and teacher has been in exile from Vietnam since 1966. The Vietnam government in recent years had invited him to return, but on the condition that he not teach. Thich Nhat Hanh declined those earlier invitations.
Phap Dung is one of 11 monks and nine nuns from Deer Park who left for Vietnam on Tuesday to join their teacher in Vietnam. He had returned to Vietnam in the past, but this will be the first time he and other monks will be able to teach without restrictions.
"They didn't allow us to teach, either," he said last Friday about earlier visits to Vietnam. "In 1998, the first group of brothers and sisters who had gone were not allowed to teach at all. When I went in the year 2000, they allowed us to teach a little bit, but they were following us everywhere."
During the 1960s, Thich Nhat Hanh worked for reconciliation between North and South Vietnam, arguing that people on both sides wanted the war to end. His efforts inspired Martin Luther King Jr. to nominate him for a Nobel Peace Prize in 1967, but also led to his exile from Vietnam by both the Communist and non-Communist governments.
"The majority of the people just wanted the war to stop," Phap Dung said. "He was going to places and calling for peace throughout the world. He was calling for peace on both sides of the government. North and South didn't like that."
Thich Nhat Hanh promoted traditional meditative practices with active nonviolent civil disobedience, a movement known as engaged Buddhism. He also established relief organizations to rebuild Vietnamese villages and created the School of Youth for Social Service.
Since leaving Vietnam, Thich Nhat Hanh has resided in a small community in France where he lives at the Plum Village Monastery and works to help worldwide refugees. Every one or two years he also stays at Deer Park in Escondido, one of his two monastery centers in the United States. The other is in Vermont. He last visited Escondido one year ago.
Phap Dung said Thich Nhat Hanh was scheduled to arrive in Vietnam on Jan. 12 and was expected to visit North, South and Central Vietnam over three months.
"I think Vietnam is trying to open up, to show the world it wants the world to better their country," Phap Dung said. "They've had a pretty bad record for denying rights to religious people and artists and people who speak out. This shows the government is changing."
In another sign that the government is changing its attitude, Phap Dung said 12 of his teacher's once-banned books are now available in Vietnam.
Phap Dung said his teacher's return to Vietnam will spread not only Buddhist teaching but also Western culture.
"The Vietnamese people really look to the West right now, to America and its development," Phap Dung said. "Many of the monks going are of Western origin, so they (the Vietnamese) will be curious to see there are Western monks following their teaching. "
Phap Dung said Vietnamese people have looked at Western Buddhist monks with puzzlement during past visits.
"They can't understand why Westerners become monastic, because they have everything," Phap Dung said. "It'll have an effect on the consciousness of the Vietnamese people. Hopefully, they'll see even though there's material wealth, there are people (in the West) interested in inner happiness and freedom."