Hundreds mourn Buddhist leader
By Warren Cornwall, Seattle Times staff reporter, Jan 18, 2005
Auburn, WA (USA) -- Hundreds of people gathered beneath the soaring roof of the Washington Buddhavanaram Buddhist Temple yesterday to mourn the death of a national leader of Thai Buddhists who guided construction of a building that is a religious and cultural mooring for the area's faithful.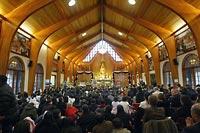 << Hundreds of mourners gathered at Washington Buddhavanaram Buddhist Temple in Auburn yesterday for the funeral of Smai Harnsoatthi, a national leader of Thai Buddhists and the temple's abbot. THOMAS JAMES HURST / THE SEATTLE TIMES
Sixty-six-year-old Smai Harnsoatthi, the temple's abbot, died Wednesday after complaining of chest pains and collapsing, ending a tenure that spanned 21 years in the Puget Sound area. In that time, Harnsoatthi led a group of worshippers that grew from an estimated 20 families to 800 members and had moved from a rented house to a mobile home to a resplendent temple.
"He is the one who envisioned this," said Sam Arkanit, a member of the temple, as he stood in the entrance hall.
Harnsoatthi, known as "luangpor" or "father monk" by temple members, served as part spiritual adviser, part fund-raiser and part building contractor, eventually rising to chief U.S. monk in the Dhammayutt order of Theravadan Buddhism.
He was sent to the area in 1984 at the request of a group of Buddhist families seeking to build a temple, said Kelly Lance, a longtime member. Harnsoatthi followed a traditional form of Buddhism in which monks forgo worldly possessions for saffron-colored robes and a silver bowl from which they usually eat one meal a day. Members of a temple donate everything from rice to toothpaste to the monks, prepare their food and drive them on errands.
The Ven. Boonliang Rosehom takes offerings >>
and says prayers during yesterday's funeral for Smai Harnsoatthi at Washington Buddhavanaram Buddhist Temple in Auburn. THOMAS JAMES HURST / THE SEATTLE TIMES
But that didn't mean Harnsoatthi eschewed the practical matters of erecting a $2.7 million temple finally completed in 1999. He developed the design and oversaw construction of the building, where he was remembered yesterday. Monks strapped on tool belts and helped piece together the building. The temple is now one of five in Washington and 43 nationwide from that branch of Buddhism.
Harnsoatthi sought a blend of American and Thai Buddhist culture in the architecture, said the Ven. Boonliang Rosehom, who became acting abbot after Harnsoatthi's death.
With its distinctive rooflines swooping steeply up to sharp points, the temple stands out in South King County suburbia. It sits on a two-lane road past a Federal Way Fire Department building, across the street from a light-blue home with a wagon wheel standing beside the entrance to its dirt driveway. Inside the temple, the Northwest presence is evident in cedar ceilings and huge fir beams arching above the worshippers.
A massive gold statue of the Buddha sat at the head of the central room, with photos of the abbot sitting beneath on either side. Harnsoatthi's body lay in an open casket to the left of the statue.
The temple's six remaining monks, joined by monks from other temples, performed their morning chants, followed by a meal of offerings from some of the hundreds of people who filled the red-carpeted room. Rosehom estimated 500 people were there.
Monks later performed a ceremony in which a string touching Harnsoatthi's hand was dipped in an ornate golden bowl filled with jasmine-scented water. It illustrates that life is ephemeral, like water falling from a hand, Rosehom said.
Then worshippers poured cups of water into the bowl. That represented both forgiveness toward the abbot for any perceived slights, and apologies for anything they had done or thought to wrong the abbot, Rosehom said.
Harnsoatthi's body will be flown to Thailand for cremation, Rosehom said.
For Lance, the funeral was a chance to honor a man who was there to help perform Buddhist rituals when several of her relatives died, and who created a place where her children can learn about their heritage.
"I'm most thankful to him because I look around at this wonderful place for my son to come and see Thai culture and my daughter to learn Thai dancing," she said.