Tibetan Wisdom in Santa Barbara
By Elena Gray-Blanc, The Santa Barbara Independent, June 29, 2008
Namkha Rinpoche Talks World Conflict, Philosophy of Forgiveness
Santa Barbara, CA (USA) -- One of the world's most eminent Buddhist visionaries, Namkha Rinpoche, will visit Santa Barbara from July 1-6. Having been forced to flee his native land of Tibet under imminent threat of arrest by Chinese authorities, Rinpoche now lives in Switzerland, and has made it his personal mission to spread Buddhist teachings to the West.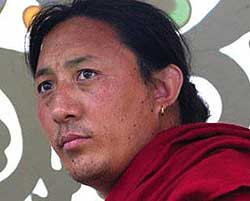 << Namkha Rinpoche is a relatively young Tibetan Lama, who bases his spiritual and Tibetan freedom efforts out of Switzerland.
Rinpoche is currently touring the West Coast of the United States, giving lectures on a variety of Tibetan Buddhist topics. The Nuclear Age Peace Foundation, along with other Santa Barbara groups, has made Santa Barbara's inclusion in his schedule possible.
Since China's occupation, the cultural and religious heritage of Tibet has been threatened. Himself a victim of suppression, Rinpoche has dedicated his life to preserving the teachings of Tibetan Buddhism. These teachings, which emphasize compassion and peace, will be the main focus of the lectures Rinpoche will give during his stay here.
While in Santa Barbara, Rinpoche will offer four lectures. The last of these, held at La Casa de Maria, another cosponsor of Rinpoche's visit, will focus on the trials and tribulations endured by the Tibetan people.
According to Rinpoche, forgiveness is one way to achieve the true peace of mind sought after by followers of Tibetan Buddhism. He will discuss his forgiveness of those who drove him from Tibet, and the way in which his techniques for forgiveness can be applied by others.
The lecture, titled "Forgiveness — the Key to Resiliency," is free, although donations are encouraged, in order to allow La Casa de Maria to continue its lecture series.
Rinpoche will also give three other public appearances during his stay, on various topics. While each lecture is independent of the others, Santa Barbarans wishing to get the most out of Rinpoche's visit may wish to attend all four. Advance reservations and early arrival is strongly recommended for all lectures, as the event organizers expect turnout to be high.
After concluding his speaking tour, Rinpoche intends to return to Switzerland and continue his work there. The Rigdzin Ling Foundation, Rinpoche's nonprofit organization, is currently raising funds for a variety of projects, including the construction of an International Buddhist Institute in Switzerland and the renovation and rebuilding of the Dzagyel Temple in Tibet.
More information on these projects, and others, can be found at the Rigdzin Ling Foundation Web site, or at Namkha Rinpoche's Web site, namkha.org.
Lecture schedule:
"Cultivating Compassion." The Center of the Heart Church, 487 N. Turnpike Rd. Tues., July 1, 7:30-8:30pm.
"Understanding the Pain, Body & Healing Ceremony." S.B. Dance Arts Performance Space, 1 N. Calle Cesar Chavez. Thu., July 3, 7-9pm.
"Green Tara Teaching and Instruction." Yoga Soup, 28 Parker Way. Sat., July 5, 7:30-9:30pm.
"Forgiveness – the Key to Resiliency." La Casa de Maria, 800 El Bosque Rd. Sun., July 6, 4-6pm.