Exhibit of sacred Buddhist relics will visit Ventura's An Lac Mission
By Alicia Doyle u, Ventura County Star, July 15, 2008
Ventura, CA (USA) -- More than 20 monks and nuns are immersed in chanting, meditation and prayer at the Ventura Buddhist Study Center as they prepare the space for a world-class, worldwide relic exhibition arriving this weekend.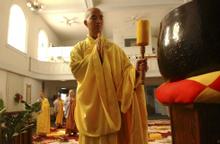 << Photos by Karen Quincy Loberg / Star staff The Rev. Thich Tinh Man of Colorado heralds an hour of chanting at the An Lac Mission in Ventura. The Maitreya Project Heart Shrine Relic Tour will visit the mission Friday, Saturday and Sunday, and will be open to the public.
The exhibition features a variety of pearl-like crystals found among the cremation ashes of Buddhist spiritual masters, including the historic Buddha.
The display will be open to the public Friday, Saturday and Sunday at the Ventura center.
"When relics come, that means the Buddha and those masters are going to come to the temple," said Sutadhara Tapovanaye, a Sri Lankan Buddhist monk and director of the Buddhist Study Center at An Lac Mission in Ventura.
"Additional chanting and meditation by a group of monastics would make the place holier," he said. "The temple will be filled with more positive energy."
The 22 monks and nuns from Ventura, Santa Ana, New York, Hawaii and Vietnam have spent more than a week on retreat to prepare for the Maitreya Project Heart Shrine Relic Tour.
The exhibition of ancient and sacred Buddhist relics is to become a component of the 500-foot Maitreya statue to be built in Kushinagar, one of the poorest areas in northern India.
The statue and its throne building will include temples, exhibition halls, a museum, library, audiovisual theater and hospitality services. All will be set in a park, with buildings and grounds containing an extensive collection of sacred art.
Building the statue will create, both directly and indirectly, ongoing economic stability as well as spiritual and social renewal in and around the site. "Construction of the Maitreya Buddha statue — because the essence of Maitreya Buddha is lovingkindness and compassion — will help by blessing and transforming the mind and heart of everyone in the world," said Lama Zopa Rinpoche, spiritual director of the Maitreya Project.
"With the attitude of lovingkindness, peace exists internally and then manifests externally," Rinpoche said. "The aim is that visitors to the Maitreye Project — Buddhists and non-Buddhists alike — will come away having been deeply inspired by an experience that will not be forgotten during their entire lifetimes."
The exhibit includes relics of the historic Buddha and the Buddha's closest disciples as well as many other well-known Buddhist masters from Chinese, Indian, Korean and Tibetan traditions, according to the official Web site at http://maitreyaproject.org.
Resembling pearl-like crystals, the relics are expected to bring inspiration and healing to those in their presence when they are on display at the Ventura Buddhist Study Center.
"Visitors often report such experiences in the presence of the relics," Tapovanaye said. "While some are inspired to pray for world peace and to develop their inner wisdom, others are overcome by emotion as the powerful effects of the relics open their hearts to compassion and lovingkindness."
Buddhists believe that the relics are formed as a result of spiritual realizations of compassion and wisdom, "so the relics are a reminder of our own essential nature of purity and our inner potential to manifest that," he said.
All are welcome to view the holy relics regardless of their spiritual tradition. The display will include items used by the Buddha, or enlightened master, and statues built to represent the Buddha. There are also Buddhist artifacts and a few tooth and bone relics in the collection.
"These relics are from masters who have devoted their entire lifetimes to spiritual practices that are dedicated to the welfare of all," Rinpoche said. "Every part of their body and relics carries positive energy to inspire goodness and reduce negativity."
Throughout the event, relic "custodians" will give short talks about what the relics are and why it's beneficial to pay respect to them.
During special ceremonies, each visitor will have a chance to receive a personal blessing on his or her head with a golden stupa containing relics of the Buddha.
"Anybody who walks here would come with positive thoughts with lovingkindness toward oneself and all," Tapovanaye said. "When everyone's stream of thoughts are with lovingkindness, that would spread love to the whole world."
Eventually, these relics will be enshrined inside the golden Maitreya Buddha statue.
Maitreya comes from the Sanskrit word maitri, meaning "lovingkindness." According to Buddhist scriptures, Maitreya will be the next Buddha to bring teachings of lovingkindness to the world.
"For him to be born in this world, we have to create a conducive environment where human beings love and respect all life forms — visible, invisible, human, plants and animal," Tapovanaye said.
In addition to supporting the Maitreya Project, the relic display is designed to build and enhance awareness for lovingkindness, Tapovanaye said.
"All the people are in fear, sorrow, stress, anger, hate as a result of our collective contribution to conflicts and wars," he said. "We need these kinds of visual objects to drag ourselves from those negative forces to positive."