Landmark fig tree is a focal point for Los Angele's Little Tokyo
By Joanna Lin, Los Angeles Times, July 20, 2008
The Aoyama tree, named for the founder of the Koyasan Buddhist Temple, is now formally designated a historic-cultural monument
Los Angeles, USA -- The sprawling, century-old Aoyama tree in Little Tokyo was formally designated last week as Los Angeles' historic-cultural monument No. 920.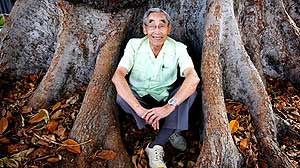 << Jack Kunitomi, 92, gets reacquainted with the Fig tree he used to climb as an 8-year-old growing up in Little Tokyo.
But for Jack Kunitomi, the Moreton Bay fig will always be known simply as the flirting tree.
Kunitomi, 92, remembers the tree as the site where he would try to line up dates with girls attending Sunday morning services at the Koyasan Buddhist Temple in the 1920s.
"I was not very successful," said the Little Tokyo native, who climbed the 60-foot tree when it was just a single trunk and barely taller than the temple.
The fig tree never helped Kunitomi woo any ladies, but it has represented the city's Japanese American community for nearly 100 years.
"This tree has endured all odds," Ken Bernstein, manager at the Office of Historic Resources, said at Thursday's designation ceremony.
The tree has stood as the Koyasan temple changed locations, office buildings rose and fell, two museums -- the Japanese American National Museum and the Geffen Contemporary at the Museum of Contemporary Art -- moved in, and a parking lot was paved over its roots.
Amid such changes in Little Tokyo, the Aoyama tree has remained the community's one constant. Its designation symbolizes the founding of the Koyasan.
The Rev. Shutai Aoyama, a Japanese immigrant who labored on farms, on railroads and in shipyards, started the temple in 1912 at a small Commercial Street storefront.
He moved the temple in 1920 to a former Japanese restaurant across the street on Central Avenue, where the fig tree grew next to the steps of the wood-frame building.
Koyasan, which moved to its current 1st Street location in 1940, doubled as a religious center and community hub for Japanese Americans, and helped forge an American-style Buddhism.
Unlike its counterparts in Japan, which do not hold regular services, Koyasan and other temples in Little Tokyo started Sunday services, mirroring the more pervasive Christian churches.
Many temples offered classes on citizenship and integrating into American culture, said Bill Watanabe, executive director of the Little Tokyo Service Center.
At its peak in the late 1930s, Koyasan's congregation included 500 to 600 families, said Frances Nakamura, the temple's board president.
Today, about 250 families attend Koyasan, she said.
Declining membership has changed the kind of activities and services the temple offers.
There's no more Sunday school -- "not enough young children coming," Nakamura says -- and classes are usually for taiko drumming, not citizenship.
And the once entirely Japanese-speaking community is shrinking.
Ministers used to speak only Japanese, and many had emigrated from Japan, Nakamura said.
Now, most ministers also speak English, and many grew up in the United States, she said.
A growing number of whites have started to join temples, with some even becoming disciples, reflecting the changing demographics of Little Tokyo as well.
Before World War II, housing discrimination prevented Japanese Americans from living in other areas of the city.
After the war, when Japanese Americans were released from internment camps and many housing restrictions were lifted, not everyone returned to Little Tokyo.
Nakamura estimates that no more than 40 member families actually live in or near Little Tokyo.
Most people, if they join temples at all, join near their homes, she said.
"The temple is one way the community has kept together," said Nakamura, who commutes from Palos Verdes to Koyasan.
Like most Koyasan members, Nakamura said she continues to attend the temple because of family history.
Her father, Seytsu Takahashi, was the temple's fourth priest, from 1931 to 1982.
"As long as I keep going and the temple is strong, a part of my father remains," said Nakamura, 70.
The majority of Koyasan's congregation do not attend regular services.
But Japanese funerals are traditionally Buddhist, and a cycle of memorial services follow.
"This is how we keep many young people," Nakamura said.
Nakamura says Buddhist temples will die if they rely on funerals and memorial services alone for membership, which is why more are beginning to hold nondenominational services and offer meditation classes and other activities to appeal to a changing community.
But with the ongoing redevelopment of downtown, many in Little Tokyo say their community's future is uncertain.
Before this last decade, Watanabe said, as many as 1,200 people -- mostly older, low-income, Japanese-speaking seniors -- lived in Little Tokyo, mainly in old hotels.
But then construction of expensive lofts and condos began.
"They can't afford to stay there, there's no way," Nakamura said. "Price excludes a number of Japanese Americans."
Designating the Aoyama tree, named by Koyasan members last year in honor of the temple's founder, is one way the community is trying to maintain its cultural heritage even as Little Tokyo's people and buildings come and go.
"The fact that the Aoyama tree, everything around it has changed, to me symbolizes that change has always been there," Watanabe said.
Nakamura said the temple would remain a fixture in Little Tokyo for some time, but "I'm not going to say forever . . ."
The Aoyama tree is another matter.
"The tree will remain as long as it remains healthy," she said.
"That is a part of our history."