Visalia Obon Festival honors the past
Visalia Times Delta, July 22, 2008
Visalia, CA (USA) -- This year's Obon Festival at the Visalia Buddhist Church will feature its regular lineup of dancers, good food, two drumming groups and a whole lot of fun.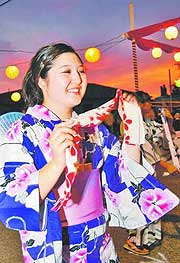 << Megan Mori participates in the Honen Bon Uta Dance at the Obon Festival at the Visalia Buddhist Church.
The event is Saturday at the Visalia Buddhist Church.
Every year Buddhist temples observe Obon, a term that means "a gathering of joy." The practice originated in Japan and blends Buddhism, culture and folklore.

The event, based on the legend of Moggallana, disciple of the Buddha, allows Japanese to honor their ancestors while celebrating their culture. Legend says that Moggallana, concerned about his dead mother's spirit, created the Obon Odori to show his gratitude to her.
Although the event includes a solemn service — which takes place a week before the festival — in memory of loved ones who've died, it also features a colorful dance festival called Obon Odori as well as food, music and presentations of artwork.
"You don't have to be Japanese or a Buddhist to attend," said Jo-Ren MacDonald, the Visalia Buddhist Church's priest. "Everyone is invited and it's a great time."
Saturday's free event starts with dinner at 6 p.m. Teriyaki beef sticks, rice, vegetables, salad and cookies will be on sale. Snow cones — including Kintoki, shaved ice with a sweet Japanese topping — also will be available for purchase.
During Obon, colorful lanterns will be lighted to signify a place for gathering and celebration, MacDonald said.
Taiko drummers will lead children and adults in dancing. This year, two drumming groups will perform, including Visalia's Koru-Taiko.
Koru-Taiko is an ethnically diverse group whose members range in age from 15-70. Besides being fun, drumming is also a great work-out, Koru-Taiko drummer Susie Yamashita said.
"It really gets your heart pumping," she said. "And it really builds your upper-body strength."
The five-person group was formed in 2006. Members practice twice a month.
Fresno's Gumyo Taiko also will perform.
In feudal Japan, taiko drummers often were used to rally troops, set a marching pace and issue orders quickly. Taiko drumming also was performed in royal courts and shrines during ceremonies.
The festival also will showcase displays of Bonsai gardening, flower arranging, paper folding and artwork.