Temple's youth group weaves Buddhism and drumming
By Lyn Berry, Today's Local News, August 16, 2008
San Marcos, CA (USA) -- At an age when many teens march rebelliously to the beat of their own drum, the junior members of Vista Buddhist Temple's Shokenji Taiko group work together to keep pace with each other and their lead drummer.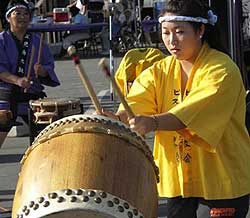 << Katie Omori, 15, and her mother, Terri, (background) make taiko drumming a family affair. Katie's father and brother also play in Shokenji Taiko. For all, the experience is a spiritual quest as well as a physical effort and mental exercise. Lyn Berry
For many, the experience is a family affair. Such is the case of Katie Omori, 15, and her brother, Kurtis, 14, who drum with their parents, Ford and Terri Omori of Vista. For all, the experience is a spiritual quest as well as a physical effort and mental exercise.
The Junior Shokenji Taiko group, consisting of drummers ages 10 to 16, has played together for two years, but for the first two months they didn't even touch a drum.
"We want the kids to understand that taiko is more than just music," said Terri Omori, whose husband helped found the adult group in 1981 along with Rodney Nishimoto and the late Rev. Arthur Takemoto. Takemoto introduced taiko to the Vista Buddhist Temple as his way of teaching Buddhist principles.
At first the young drummers "did exercises in communication, problem-solving and teamwork," Terri said. "They learned the proper stance and posture, as well as the purpose of drumming. Taiko represents the three treasures of Buddhism. The drum itself represents the calling voice of the Buddha. The drumsticks — bachi — represent the teachings, or dharma, and the prayers before and after each piece, as well as the listeners, represent the community, or sangha."
Because of having to wait to take drumsticks in hand, the process has proven a ­lesson in patience for Katie.
"I have grown up with taiko my whole life," Katie said. "I wanted to start when I was about 8 years old, but I had to wait until my parents thought I was ready. It was almost like coming of age. Then we all had to learn to work together."
Taiko involves choreography as well as developing an ear for rhythm and patterns. Once the junior drummers had learned the historical and spiritual background, including respect for the drums themselves and the work that goes into making them from oak wine barrels with stretched cowhide for skins, they were given the challenge of composing their own piece.
"Just give me a pattern," Terri told them. "Once you have it, we will put it all together."
They also have learned to play percussion instruments in addition to the large taiko drums. Mokusho, wooden blocks played with small mallets, add a different sound. Mokugyo, a small instrument shaped like a fish; and hyoshigi, wooden bars connected by a rope often used during chanting, also enhance the experience.
During a recent practice, Kurtis Omori practiced with chappas, small cymbals, and Robby Schupp, 14, played the sasara, which looks like a wooden necklace and makes a sound like a rattle.
"This instrument is significant in Buddhism because of its construction," Terri said. "It has 108 pieces, which represent the 108 desires in human nature. Our meditation beads also have 108 pieces."
Kurtis also plays the conch shell at the beginning of performances, a skill he learned at 4 years old. The conch represents the calling of the Buddha's voice.
"All of what we do helps us to be more mindful of the people around us," Kurtis said. "We really learn to listen and stay focused."
The work of the drummers, adults and youths alike, speaks to unity, a goal of Buddhism.
"We're all mindful of what we're doing because we know that our actions will affect future generations," Terri said.
Other members of the Junior Taiko group include Andrew Schupp, Derek York, Austin York, Thomas Yasukochi, Michelle Yasukochi, Grant Yasukochi, Nicole Roberson and Brent Chick.
In order to play in Shokenji Taiko, a person must be sponsored by a member and must be a member of the temple.
The next major performance by Shokenji Taiko will be during a spring festival celebrating the birth of the Buddha.