Thai Monks teach Buddhism in Layton
By Jessica Ravitz, The Salt Lake Tribune, Sept 6, 2008
Layton, Utah (USA) -- Funny how the color can confuse people. Sporting a robe-matching bright orange hoodie sweatshirt as he lugged rocks across the lawn, the man known as Tahn Nong laughed when he recounted the recurring question, an odd one for any practicing Buddhist to hear.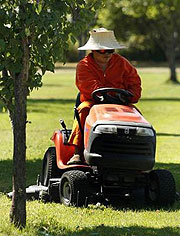 << Tahn Israt, (above) monk at Wat Dhammagunaram, the Thai Buddhist temple in Layton, Utah mows the temple lawn. (Leah Hogsten/The Salt Lake Tribune)
"Some people ask me, 'Are you a hunter?' he said, flashing a huge smile as he squinted into the midday sun. "I say, 'No, I'm a monk!'
Nong, 32, whose full name - including his religious title - is Phramaha Suphachate Yotjai, became earlier this summer the Thai Buddhist temple Wat Dhammagunaram's newest resident monk. He joined Phramaha Israt Rittiron,41, who's known as Tahn Israt, the monk who has been a constant for the past 11 years during which time the number of temple monks has fluctuated. "Tahn" is the equivalent of "Mr.," they explained, and Nong is simply the preferred nickname for the younger resident.
Together they live in the temple's adjacent "white house," while maintaining the grounds as well as the temple's and the community's well-being.
"You know when you get sick with your body, you go to the doctor? When you're sick with your mind, you go to temple," Nong said.
In Thailand, a country that's about 95 percent Buddhist, it is customary for men to take monastic vows for short periods, most commonly about three months. But for Nong and Israt, the commitment that began in their teen years has stuck, at least for now. After being trained in their home country, both were eventually sent to the United States to serve communities, "like a missionary," Nong said with a laugh. Israt arrived in Colorado 16 years ago, before being sent to Utah; Nong came to Layton by way of Las Vegas, where he landed in 2004.
The two sat down in the temple recently, hoodie sweatshirts off, to discuss their spiritual work and their day-to-day living. Each morning and evening, they step into the temple to do chants and meditations. Their weekdays are filled with teaching people about Buddhism and providing counseling on meditation. They conduct ceremonies for community members, doing everything from funerals to offering blessings for newborns and new businesses. On Saturdays they lead a meditation class, and on Sundays they conduct the weekly service for the community, which includes people from Thailand, Laos, Cambodia, Vietnam and America, as well as other Westerners. They average about 50 people on Sundays, but can draw hundreds for festivals.
Israt said their goal is "to help the people to develop their minds, to be peaceful and to end the suffering."
Managing suffering requires acceptance, he explained, pointing to the "cycle of life" as an example. While people easily accept birth, they don't accept aging, sickness and death, and because of this, they suffer.
Another problem weighing on American society, said Israt, is materialism. Rather than focus on financial gains, he said people would be better-served if they focused on spiritual goals, before launching into Wall Street analogies.
"Life is an investment for me," said Israt, who admitted he reads any book he can find on money management. "People see investments as money, but not for me. .... You invest in something and get the profits back."
One investment this monk has made is an education. Israt earned a degree in software engineering at Weber State. It's not that he plans to do anything in the field; he said he just loves to learn. "Someday I may change my life," he added. "But I don't know the future."
Asked what they do for fun, the two monks started to giggle.
"Meditation's for fun," Israt answered. "It sticks in your mind, and you're happy for a long time. My happiness is silent."
They do own a television, though they say they don't watch it often. Israt's favorite show: CNN. Nong enjoys an occassional football game and said he's a fan of the New England Patriots. "And Broncos, Broncos!" interjected Israt, who moved to Layton from Denver. On occasion, when they can, they like to head up the canyon to take in Utah's natural beauty.
These monks don't get involved politically, although Israt confessed Ñ off the record Ñ that he was rooting for a certain someone. Their apoliticism can be attributed to the fact that Wat Dhammagunaram follows Theravada Buddhism, the thriving school in Thailand and one that emphasizes solitary life and personal religious discipline. Tibetan monks and the Dalai Lama, on the other hand, subscribe to Mahayana Buddhism, which focuses less on seclusion and more on service to others.
Monks in Thailand visit villages with silver begging bowls, and the people feed them, said Roberta Chase, the director of the temple's board. In Utah, community members bring the monks food at home (they must finish eating for the day by noon), and on Sundays bring food offerings to services. Sometimes Nong likes to try his hand at cooking, and said if he weren't a monk he might be a cook. His repertoire is pretty limited: "I can do mashed potatoes, cake and egg frying." Added Israt, who's never tried to cook, "For me, I love the Chinese restaurant."
Nong is hoping to make his first trip, in more than four years, back to Thailand next year. Israt said he hasn't been back since he left Thailand 16 years ago. This is where he lives now, he explained, as a pair of Mormon missionaries strolled down the sidewalk beside the temple's grounds.
The two monks are involved in interfaith work and are constantly being invited to speak or offer chants at official gatherings. They also meet quite often with Mormons who've completed missions in Thailand. The returned missionaries flock to Wat Dhammagunaram to get a taste of the culture they left and loved, and to practice their Thai language skills, which have made an impression on Israt.
"Ten years, I can't talk," the monk said, putting his hands to his face in exasperation. "It's not fair!"
But even though their language skills may not be perfect, tapping into what they offer is worth the effort, said Chase, the temple's board director. Last fall, when they first offered meditation classes, about 150 people showed up, almost all Westerners.
You dig for gold and you get treasures," she explained. "There's a lot of interest in learning meditation, in learning about Buddhism and Thai culture. ..... This is the real thing, and that really draws people."
Interested in visiting and celebrating Wat Dhammagunaram?
The Layton Buddhist temple, 644 E. 1000 North, will host a food fair Sept. 13 from 11 a.m. to 6 p.m. Fair visitors will pay as they eat. That evening, from 7 to midnight, the community will throw a party including live music, dancing and food. Admission to the evening event, which includes everything, is $10.
To learn more about Wat Dhammagunaram's class offerings and service times, contact Roberta Chase at chase12@comcast.net or 801-966-0639.